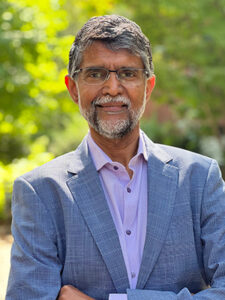 In Penn Engineering, the last weeks of summer are filled with anticipation as we prepare our campus for the return of our full student body, and I'm particularly excited to welcome all of our new students, faculty and staff who will be joining us for the first time this semester.
Penn Engineering is a place where we are driven by exciting, groundbreaking advances in technology, and indeed our Penn Engineers are driving many of these changes. We are a community of problem-solvers and our students join a global network of scholars and inventors who are driving change and pursuing solutions to problems as diverse as climate change and human health, and leveraging the immense opportunities created by artificial intelligence and data science for the benefit of humanity. Each year brings new challenges and new opportunities, and the excitement that comes with innovation and the tremendous potential for impact.
As we look toward the future we want to create, part of our efforts include continual additions and improvements to our Engineering campus so that we can provide our students and faculty with the state of the art when it comes to facilities and technology.
The structural frames of Amy Gutmann Hall, Penn Engineering's newest building and the University's future home for data science, and the Vagelos Laboratory for Energy Science and Technology are now complete and scheduled to open during the 2024-25 academic year. Our laboratory footprint extends into One uCity Square, where by summer 2024, wet labs will support research in Precision Engineering for Health. Together, these additions represent nearly 275,000 square feet and 15 floors of new space for students, staff and faculty for education, research and outreach.
As our new buildings continue to take shape, we are also adding new hallway displays within our existing complex that highlight our proud tradition of innovation and impact. You will notice one dedicated to our history in the ground floor of Moore and a second display in the west stairway of Towne which celebrates notable Penn Engineering alumni. I hope that you will take the time to view these installations, and use the QR codes on the displays to give us your feedback and suggestions for new exhibits.
For faculty and staff in the School, the education and experience of our students is paramount, and our new students will soon discover that ours is a community dedicated to success for each member. Our faculty and staff stand ready to assist students with their transition to Penn, and I urge all students to reach out if there are questions or concerns during their time in Penn Engineering.
As each of us takes our place within the Penn Engineering community, we join an organization with a forward-thinking mission, vision and values. Let me affirm the following shared values for our school:
We are a community of scholarship, creativity and curiosity, and value the pursuit of knowledge and professional development.
We are a community of integrity and character that values what is honorable and honest.
We are an inclusive community of diverse people and perspectives that values different viewpoints and styles of thinking.
I urge each of you to reflect on these community values and uphold them throughout the academic year.
In order to stay current with all of the news, events and incredible impact taking place throughout the School, I also encourage everyone to follow and engage with Penn Engineering on social media, including LinkedIn, Instagram, Twitter and Facebook. These are wonderful ways that we can all celebrate and share the achievements of our fellow Penn Engineers.
As we embark upon the Fall 2023 Semester in Penn Engineering, I'd like to take this time to wish each of you an engaging, productive semester. I'm honored to be the Dean of our school, and I look forward with great excitement to seeing what the 2023-2024 academic year holds for all of us.
Vijay Kumar
Nemirovsky Family Dean and Professor
Penn Engineering