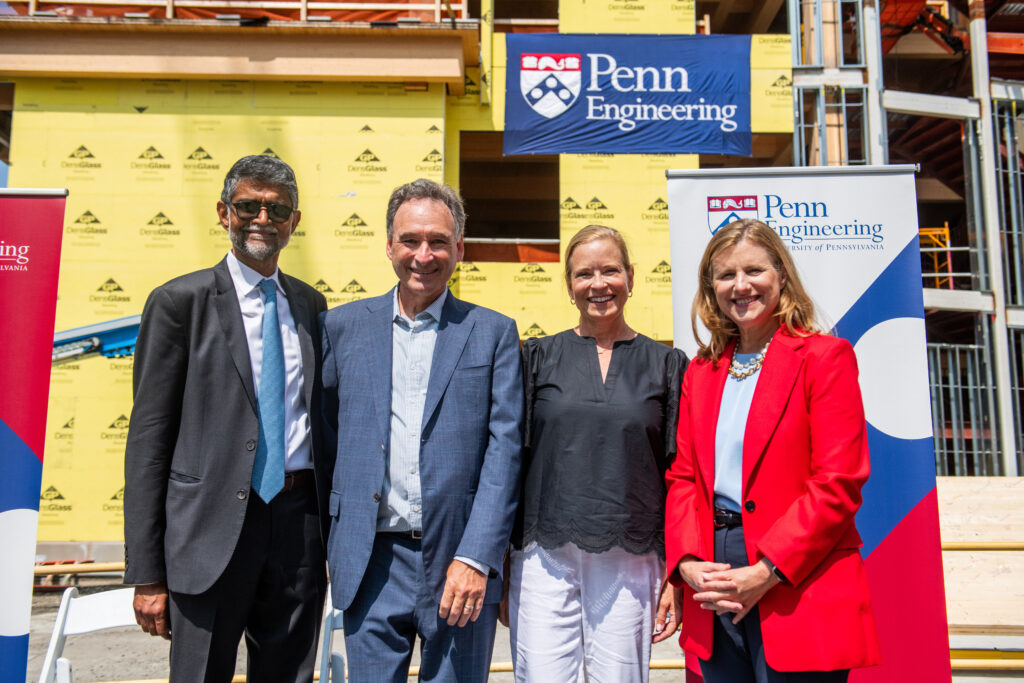 Two years after the project ceremonially broke ground at 34th and Chestnut streets, members of the Penn community gathered on Wednesday for the "topping off" of Amy Gutmann Hall. A time-honored tradition in construction, the signing and placement of the final wood panel signaled the completion of the new School of Engineering and Applied Science building's frame.
A hub for data science on campus and for the Philadelphia community when it officially opens next summer, Amy Gutmann Hall will embolden interdisciplinary work in a field that is "transforming all facets of engineering education, and of course research and innovation," said Penn Engineering's Nemirovsky Family Dean Vijay Kumar.
The new facility, with next-generation hybrid classrooms and laboratories, will be equipped to support exploration that advances graphics and perception, privacy and security, computational social science, data-driven medical diagnostics, scientific computing, and machine learning. It will also allow for the development of "safe, explainable, and trustworthy artificial intelligence," said Kumar.
Eighty-two truckloads of mass timber—a more sustainable and efficient product than steel or concrete—have been used to construct the 116,000-square-foot, six-story building. Philadelphia's tallest new mass timber structure, Amy Gutmann Hall will evoke a warm, welcoming environment with its exposed wood throughout its spaces.
"The building is not so much built as it is engineered and then prefabricated with extraordinary precision," said President Liz Magill. She noted how the techniques used to create the new building relied heavily on advanced computation and data, "which is precisely the kind of work that this building will foster when it's completed."
"The building reflects the use, and the use helped determine the building," Magill said.
Amy Gutmann Hall, designed by Lake|Flato and KSS Architects, currently under construction led by Gilbane Building Company, and named for Penn's longest serving president, has been made possible thanks to a transformative $25 million commitment to Penn Engineering from Harlan Stone in 2019, a University Trustee, member of Penn Engineering's Board of Advisors, and chair of the school's Technical Advisory Board. Stone, a School of Arts & Sciences alumnus and Penn Engineering parent, said at the gathering that he imagines the new building as a place that will "produce new ideas, methodologies, and paradigms of how data can impact humanity for good."
After partaking in a celebratory toast, the crowd cheered as a crane erected the wooden panel, which had been signed by those "who took a very bold idea and made it a compelling reality," said Magill.
"We together celebrate this milestone in the creation of Amy Gutmann Hall," Magill said. "A testament to the belief that collaborative research and learning can solve some of the world's most urgent problems. Within this building, may the insights that we gain through data science help us harness new knowledge and understanding to create a better world. I know we all cannot wait to see these innovations come to life."
This story was written by Lauren Hertzler. It originally appeared in Penn Today.