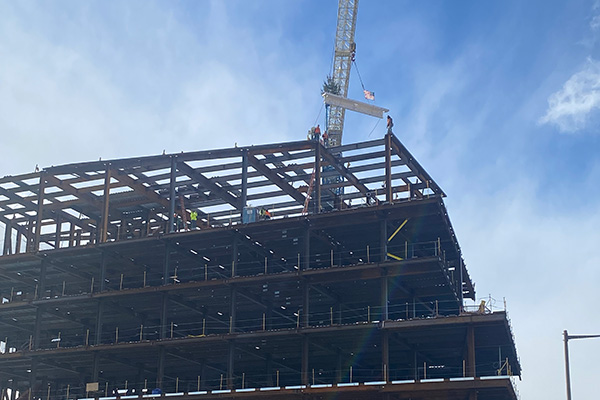 On Friday, February 3, 2023, Penn President Liz Magill was joined by Vijay Kumar, Nemirovsky Family Dean of Penn Engineering, Steven J. Fluharty, Dean of Penn Arts & Sciences, Karen Goldberg, Vagelos Professor of Energy Research and Director of the Vagelos Institute for Energy Science and Technology (VIEST), and Dr. Roy Vagelos (C'50, PAR'90, HON'99) at a ceremony marking the final steel beam to be placed on the Vagelos Laboratory for Energy Science and Technology (VLEST).
The VLEST ceremony celebrates a milestone in the construction of a building that will serve as an advanced energy research laboratory and home to both the VIEST and the Vagelos Integrated Program in Energy Research (VIPER) undergraduate dual-degree program.
The 110,000-square-foot facility, located at 32nd and Walnut Streets, will house spaces and technologies that are essential to Penn Engineers as they pursue advances in sustainable energy research and education.
"The Vagelos Laboratory will be a tribute to Penn's interdisciplinary strength, with state-of-the-art laboratories and workspaces that bring chemical engineers, electrical engineers, materials scientists and mechanical engineers together with chemists and physicists to respond to scientific and technological challenges in the rapidly changing energy landscape," said Dean Kumar. "I could not be happier to see these plans taking shape in front of us."
Designed in large, open laboratory environments, VLEST will contain highly functional, flexible and efficient wet chemistry research labs and optics research labs, including a nuclear magnetic resonance (NMR) spectroscopy suite, that will serve researchers in both Penn Engineering and Penn Arts & Sciences (SAS).
VLEST will have intentionally open and exposed vertical circulation spaces throughout the building that will provide opportunities for collaboration between faculty and students from Penn Engineering and SAS. The facility will also include a new landscaped courtyard linking the Walnut Street gateway and Shoemaker Green to the southwest.
In addition, the infrastructure of VLEST is extremely energy efficient and the design allows Penn to be more flexible and agile in space management and allocation, with maximum opportunity to support researcher growth and space throughout the life of the building.
Energy and Sustainability is one of Penn Engineering's three signature initiatives, and VLEST is the centerpiece of this initiative. The new building is named in honor of P. Roy Vagelos (C'50, PAR'90, HON'99) and Diana T. Vagelos (PAR'90) and represents Penn's commitment to energy research. The Vageloses' longtime support of Penn includes VIEST, the Vagelos Professorships in Energy Research, VIPER, and several other science-related programs, undergraduate scholarships and endowed professorships.