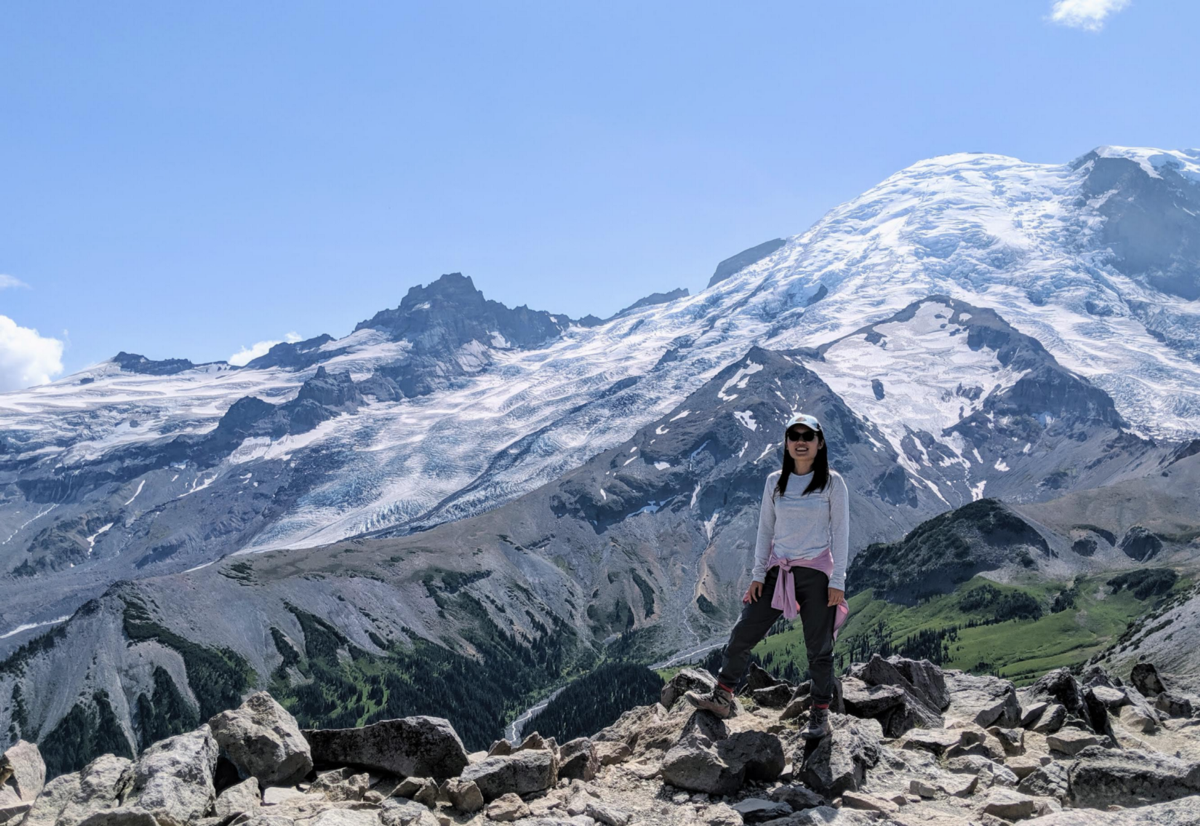 Xunjing Wu was working as a GIS analyst in a global infrastructure company in 2015 when she signed up for her very first computer science course online. With a background in urban planning, she used spatial data and GIS software regularly, but thought that the Python programming language would help her be more efficient in her role.
"Working there and at a startup afterward reinforced the idea that I needed to have the skills and the tools to understand data better," Wu said. "As a kid, I didn't have access to a computer, but I remember that after I started working, I knew I needed and wanted to learn programming."
Over time, this interest in a better understanding of data transformed into a plan to pursue a career in software engineering or product management, which is when Wu started researching her options. She methodically researched bootcamps, on-campus degrees and online degrees that are open to students without a computer science undergraduate degree. When she learned of the University of Pennsylvania's Online Master of Computer and Information Technology degree, it became her first choice, and Wu eventually became part of the program's first cohort. "I applied to Penn and only to Penn," she said.
This unique degree designed for students without a computer science background meant that Wu could earn an advanced computer science degree without restarting her education from the beginning. She already had an undergraduate degree in English and Literature and a Master of City and Regional Planning. Plus, with a husband and life in New York City, a quality online degree was very attractive.
Before she decided to apply, she sat down with her husband and reached out to friends who worked in the tech industry. While the University of Pennsylvania's Ivy League status was enticing, she said the most important consideration in her decision was that so many alumni of the MCIT on-campus program had gone on to become software engineers at top companies such as Facebook, Google and Bloomberg after graduation. With only one month before the application deadline, she immediately reached out to her professors and colleagues for reference letters and started drafting her personal statement.
As a current student enrolled in the MCIT Online program, Wu spends her week balancing coursework for two courses and pitching new ideas to friends and former colleagues. With an entrepreneurial mindset, Wu said she's passionate about working on impactful products. In her first year in the program, she expects to complete six of the ten required courses and said she is considering pursuing an entry-level programming role already, even before she graduates.
"I took online courses before, which I actually quite liked. I enjoy learning at my own pace," she said. Having little formal training in computer science, Wu appreciated that there is a strong support community among her peers that she can lean on. One of her biggest concerns with an online program was that she would need to study alone and that she wouldn't have help if she got stuck. However, that's not the case: "When someone posts a question on Slack, you can expect help or an answer very quickly from other students. You still have that sense of community even when you're doing it online," she said. She even sets up live Zoom calls with her peers to work through challenges sometimes.
Wu said her favorite courses so far have been Mathematical Foundations of Computer Science, Introduction to Computer Systems, and Data Structures and Software Design because of the detailed and well-organized professors and course content. "I was impressed by the promise that it would be the same quality as their on-campus program: the courses are very solid."
Wu said she plans to graduate at the end of next year and looks forward to attending the graduation ceremony on campus to share her proud moment with her family and friends, and possibly even her parents who would travel from China. "I'm going to be so proud of myself once I get this degree because it's definitely not easy," she said.
Her advice to students considering the degree? Time management. "Make sure you allocate time well, especially if you're working," she said. "It is a lot of work and the assignments can be quite time-consuming. You won't be daunted by the work if you allocate time well — start early and follow along every week."
Wu has since then successfully transitioned into a new career and she is now a Sr. Product Manager at Comcast. Prior to landing this full-time role, she also interned as a Sr. Product Manager – Technical Intern at AWS.
"The knowledge I'm gaining from the MCIT program has given me a better technical understanding of technology as well as the confidence to grasp new technical information and knowledge. For example, I am working closely with mobile developers at my new job. I didn't have mobile development experience before. But having a fundamental understanding of computer science made me feel more comfortable about asking my developer colleagues to help me better understand the technical side of things, or feel more comfortable looking up technical information myself.
I am grateful for the MCIT online community. The diversity in professional and cultural backgrounds—and the willingness and openness of the students to connect and support one another—is truly amazing. Thanks to this wonderful community, I have expanded my career network, and most importantly, made good friends. For those who are looking for their next opportunities, we have a student-driven Slack channel to share internship/job opportunities in addition to the career resources the program provides. You'll see people sharing opportunities from their companies, as a lot of the MCIT online students work full-time. People also share other opportunities they come across. Both my internship and full-time opportunities came through referrals from MCIT classmates, and they were also helpful in sharing interview tips."