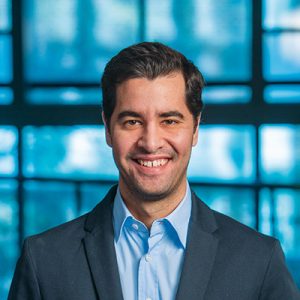 The Scialog: Advanced Bioimaging initiative has selected Paris Perdikaris, Assistant Professor of Mechanical Engineering and Applied Mechanics, to be part of its first cohort of researchers.
A combination of "science" and "dialog," the Research Corporation for Science Advancement's Scialog program is a series of collaboration-generating conferences and grants, focused on a range of pressing scientific issues.
The 23 researchers in the first Advanced Bioimaging cohort collectively received more than $1 million dollars to initiate innovative, multidisciplinary and high-risk projects. The topic is a priority for one of Scialog's main funders, the Chan Zuckerberg Initiative.
"Imaging technologies play a critical role in CZI's mission to support the science and technology that will make it possible to cure, prevent or manage all disease by the end of the century," said Stephani Otte, Science Program Officer for Imaging at CZI. "We hope these teams of early-career researchers will advance the imaging field's ability to observe and analyze biological processes and help build a much deeper mechanistic understanding of biological systems, identify potential points of intervention in disease, and inform directive treatments."
Perdikaris' previous work has brought together applied mathematics, scientific computing and machine learning to better model unpredictable physical systems, areas of expertise he will bring to the Scialog project, titled "Machine Learning to Identify Soft Tissue Molecular Signatures."
Through Scialog, Perdikaris will join forces with Carolyn Bayer, Assistant Professor of Biomedical Engineering at Tulane University, and Sapun Parekh, Assistant Professor of Biomedical Engineering at the University of Texas at Austin.
Scialog's approach is to form new collaborations between scientists through problem-identifying and problem-solving discussions, which occurred virtually this year. Once teams of researchers pitch a project, each member receives a three-year, $50,000 grant to actualize their approach, in which creativity and out-of-the-box thinking is encouraged.
Advancing BioImaging is one of several globally significant topics Scialog organizes research on; cohorts dedicated to "Signatures of Life in the Universe,"  "Mitigating Zoonotic Threats," and others are being established this year.