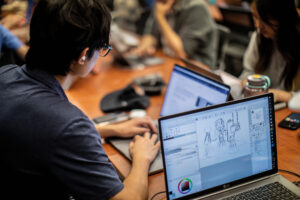 In today's ever-expanding world of content and entertainment, video games have taken center stage. From PC to console to mobile gaming, and now to e-sports and competitive gaming, video games are more than hobbyist pastimes — they are a massive industry of dedicated players and professionals who are seeking the next great innovation in gaming and gaming technology.
Penn Engineering students are uniquely equipped to navigate the modern gaming industry as their training in the Digital Media Design (DMD) program prepares them to approach game development with technical rigor and creative insight.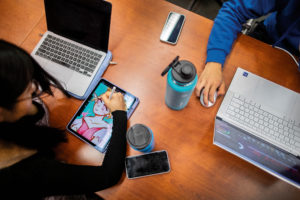 "The way the DMD program at Penn Engineering works is that there is an absolute technical foundation and then you build from there," shares Steven Flisler (DMD'06), Vice President of Original Content and Executive Producer of Twitch Rivals for Twitch, an interactive livestreaming service for content spanning gaming, entertainment, sports, music and more. "My experience with DMD taught me how to blend art and science, which has shaped the work I do today to create great entertainment experiences."
DMD students aren't waiting until they graduate to join the gaming industry. The student group UPGRADE, the University of Pennsylvania Game Research and Development Environment, has brought together students from the DMD program and beyond to develop games with an emphasis on creative expression and an interdisciplinary approach to game creation.