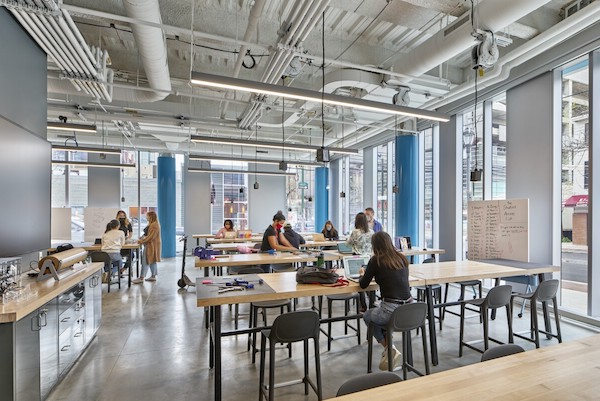 The 2023 Venture Lab Challenge is underway, and Penn's student entrepreneurs have the opportunity to compete for more than $300,000 in awards to launch their ideas into reality.
Tangen Hall, an interdisciplinary partnership between Penn Engineering, the Wharton School and the Stuart Weitzman School of Design, houses the Venture Lab as one of its nine "innovation spaces." All Penn Engineering students, and the University student body as a whole, have access to the Hall's resources to support the designing, prototyping, building and scaling of their business enterprises.
Each year, the Venture Lab hosts its flagship event, the Startup Challenge, which provides a comprehensive platform to help Penn student entrepreneurs and their teams develop and launch their businesses, along with a network for brainstorming, feedback and future business opportunities. In previous years, teams competed for a chance to pitch to a live audience and alumni judges at the Startup Showcase, and to win cash and in-kind prizes from an award pool of over $150,000. This year, however, the award pool has gone up to over $300,000.
The Perelman Grand Prize, one of ten presented annually, was awarded to Toxisense in 2022 for the development of a system that aims to improve the endotoxin testing required for drinking water and biopharma products through genetically engineering plants. The Toxisense team, consisting of all first-year students, included Penn Engineering student Udit Garg. The team was awarded $50,000, plus $10,000 in legal, accounting and strategy services.
The deadline to apply to the 2023 Startup Challenge is January 22, 2023, 11:59 p.m. ET.
Visit the Venture Lab site for more details and a link to apply.