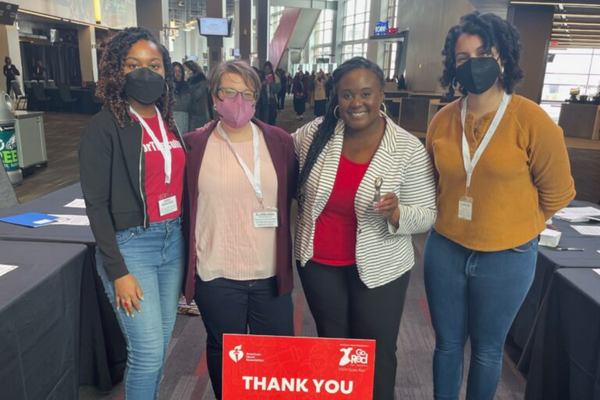 From left: Abriana Stewart-Height, Dr. Julee Farley, Chanda Jefferson and Dr. Aja Carter
On Tuesday, February 7, 2023, Penn Engineering's Community Outreach Team, under the leadership of Chanda Jefferson, Director of Community Engagement and Outreach, joined the American Heart Association's STEM Goes Red initiative at Lincoln Financial Field. Hosted by the Philadelphia Eagles, Penn Engineering served as the STEM breakout session sponsor.
Over 130 high school students from the Philadelphia area participated in the event. The students were given a tour of the stadium before attending various sessions hosted by professionals in related fields, including interactive discussions and robotics demonstrations led by Penn Ph.D. candidate Abriana Stewart-Height and Dr. Aja Carter, Vice Provost Fellow for Academic Diversity in the GRASP Lab, with assistance from Dr. Julee Farley, Director of the Science Outreach Initiative in the School of Arts and Sciences.
Jefferson developed and led a dynamic Super Bowl-themed Engineering and Design Challenge, which asked the students to create a free-standing trophy display case using only notecards and masking tape to secure and protect a mini-replica of the Eagles' Super Bowl Championship Trophy. Jefferson emphasized the importance of the event, explaining, "We love working with organizations that strive to create pathways for underrepresented minorities in STEM, especially our Philadelphia K-12 youth. This is a significant part of our outreach mission and vision."
Sarah DeLucas, the organizer of STEM Goes Red, praised the Penn Engineering Outreach Team stating, "The session was engaging, fun and informative. The students thoroughly enjoyed the program that Penn put together and the useful resources provided."
The American Heart Association's STEM Goes Red initiative provides young women with opportunities to come together and experience the exciting world of STEM, meet mentors, network and learn from established women executives who are paving the way for women in STEM Careers.
Penn Engineering remains dedicated to outreach in Philadelphia and its vision of creating pathways for diverse communities in STEM. To learn more, please visit Penn Engineering's website for information on Community Engagement and Outreach.