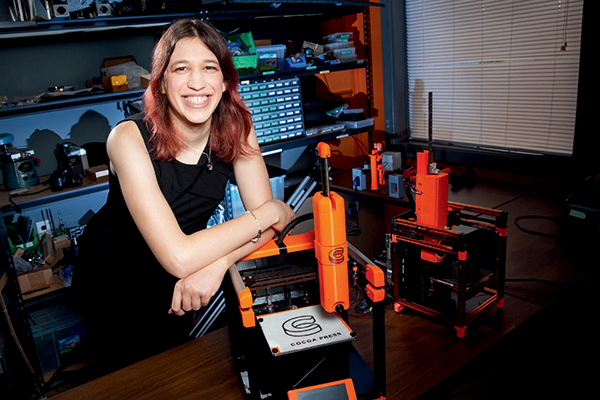 In a few short decades, 3D printing has gone from unique to ubiquitous. It's used nearly everywhere, from making toys and gadgets in classrooms nationwide to manufacturing new parts on the International Space Station. Ellie Weinstein (MEAM'19) has a different venue in mind for this emerging technology, however: the kitchen.
Instead of printing plastic or metal, Weinstein is tweaking the technology to print chocolate in elaborate shapes and patterns. Her company, Cocoa Press, which she founded in 2019 as an undergraduate at Penn Engineering, makes confectionaries out of delicate, lace-like chocolate strands that crisscross one another as they are laid down by a modified printer, gradually building up a lattice of edible artwork.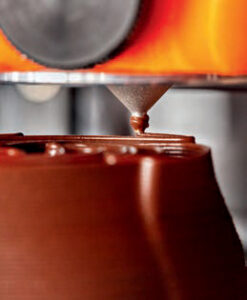 "3D printing lets you create intricate textures that are not possible to mold," says Weinstein. "The printed chocolates melt in your mouth in a different way than a solid or hollow molded shape does."
Printing chocolate as a business wasn't Weinstein's original goal. Her idea initially started as a hacked-together high school project in 2014. Once at Penn, Weinstein kept tinkering and improving the device as a hobby, incorporating what she gradually learned while working on her degree in Mechanical Engineering and Applied Mechanics. After increasingly positive feedback on her idea, she started to realize its commercial potential, taking entrepreneurship classes while fine-tuning her 3D printer for her Senior Design project.
"It was perfect. Our team had access to a machine shop to fabricate all the parts, and we would reach out to professors for help with technical roadblocks. We had access to mechanical engineering experts for the device itself, professors working in thermodynamics for figuring out how to precisely heat the chocolate and fluids professors to help troubleshoot how the chocolate flows," she recalls. After graduation, financial support from Penn Engineering's Miller Innovation Fellowship and the Pennovation Accelerator (a program that helps to jumpstart local businesses) helped her create the devices and confections that she now sells commercially.
"A lot of what I see as the core of engineering is just breaking down these complex problems into smaller ones. And often, when you Google them, you'll find someone has already solved most of those smaller problems," she says. "It's just a matter of putting them all together in the right way."
Read the full story in Penn Engineering magazine.
---
Cocoa Press was also featured in The Creators: Penn alum looks to hit sweet spot with new 3D chocolate printer, published on February 13, 2023, in The Philadelphia Business Journal.