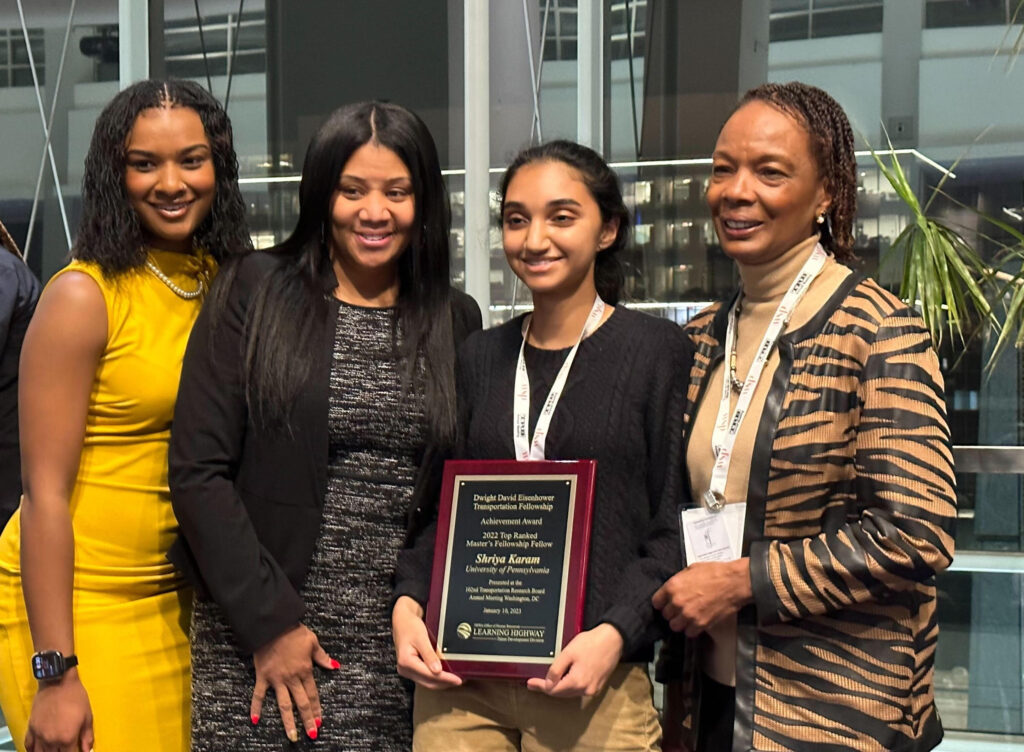 Shriya Karam has utilized her Penn Engineering undergraduate experience to research and develop methods in transportation accessibility and equity. The fourth-year undergraduate in the Department of Electrical and Systems Engineering was named a Barry M. Goldwater Scholar by the Barry Goldwater Scholarship and Excellence in Education Foundation in March 2022 and was an Eno Center of Transportation Student Essay Contest Winner. Currently, Karam is a Research Assistant at the Center of Safe Mobility, where she has developed a new metric to measure accessibility to the aviation system that incorporates the constraints of disadvantaged travelers. 
Karam has now been recognized for her work by the top category in the U.S. Department of Transportation's (USDOT) Dwight David Eisenhower Transportation Fellowship Program (DDETFP), which awards about $3 million in fellowships to students pursuing degrees in transportation-related disciplines annually. The DDETFP has awarded over $50 million to the brightest minds in the transportation industry since its inception in 1983.
"Shriya's current and future research plans to build mathematical models that center the constraints of the most vulnerable travelers is novel, rigorous and highly needed in our field," said Megan S. Ryerson, UPS Chair of Transportation and Associate Dean for Research at Penn's Weitzman School of Design, and Professor in both the Department of City and Regional Planning and in Electrical and Systems Engineering. "I am in awe of what Shriya has accomplished during her time at Penn, and I'm so proud that she has chosen to apply her expertise to further more equitable transportation systems." Ryerson is also the Research Director for Mobilty21, a USDOT national university transportation center.

As the recipient of the DDETFP Graduate Fellowship, Karam is one of 100 undergraduate, master's and doctoral students to submit an application package and be selected. She was awarded the top-ranked fellow award to a student pursuing a master's degree after receiving the highest application score among all bachelor's and master's fellowship winners, and was presented with the $30,000 award grant and plaque at this year's Transportation Research Board (TRB) Annual Meeting, held in January.
The DDETFP Graduate Fellowship has three goals: 1) attract the Nation's brightest minds to the field of transportation; 2) enhance the careers of transportation professionals by encouraging them to seek advanced degrees; and 3) bring and retain top talent in the transportation industry of the U.S.
"With this support and recognition, I had the unique opportunity to present at the DDETFP Research Showcase at the TRB meeting," said Shriya. "It allowed me to share my research among diverse scholars in transportation. I am very grateful."
After receiving a bachelor's degree in Systems Science and Engineering with minors in Mathematics and Data Science in May, Karam, who also serves as President for the Underrepresented Student Advisory Board in Engineering, will go on to pursue master's and doctoral degrees in engineering beginning in Fall 2023.
"I plan to serve as a professor of engineering," said Karam. "I am committed to recruiting and supporting a diverse group of students in developing equity-focused transportation methods."