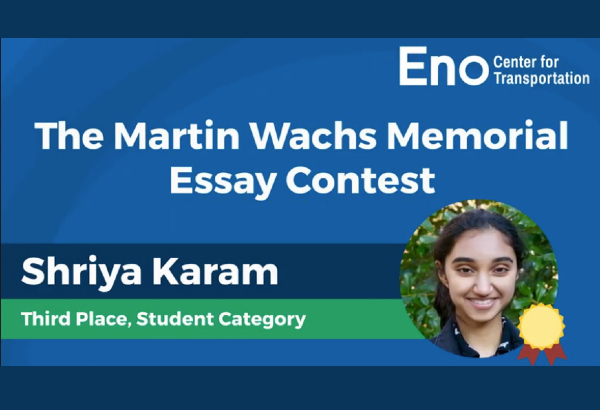 As a part of the transportation industry-at-large, the aviation sector has endured many adverse effects of the COVID-19 pandemic. Billions in financial losses, thousands of flight cancellations, and airport and airline job losses have hung heavy over the industry as federal stakeholders and airlines seek a viable way forward.
Systems Engineering junior Shriya Karam believes that this time of transition from the pandemic is crucial, and that stakeholders should leverage it to develop aviation systems with accessibility at the forefront.
Karam made that case in a a recent essay for the Eno Center for Transportation, a century-old, non-profit think-tank focused on transportation policy.
In "Runway to Recovery During COVID-19: Aviation Accessibility Through An Equity Lens", Karam explains how we can and should plan for aviation development infrastructure around improving access for vulnerable populations.
Karam, whose research interests focus on developing new mathematical methodologies that center equity and accessibility in aviation systems planning and engineering processes, says that attempted overhauls and initiatives in aviation accessibility often face political scrutiny because "accessibility is not shaped by a standard, accepted definition and practice."
Developing a clear and consistent framework around accessibility in the context of aviation, drawing from established theoretical criteria from the urban planning community, is critical in supporting equity-focused investments to achieve a sustainable path to recovery from the pandemic. Additionally, we can further inform strategic decision-making through cross-agency collaboration and engagement with community stakeholders when considering a potential investment.
Karam's essay was a submission to the Eno Center's Martin Wachs Memorial Essay Contest, in which transportation professionals and students share their ideas of the best ways toward a transportation system that fosters economic vitality, advances social equity, and improves the quality of life for all. Her essay earned her third place in the student category.
Read "Runway to Recovery During COVID-19: Aviation Accessibility Through An Equity Lens" at the Eno Center for Transportation.