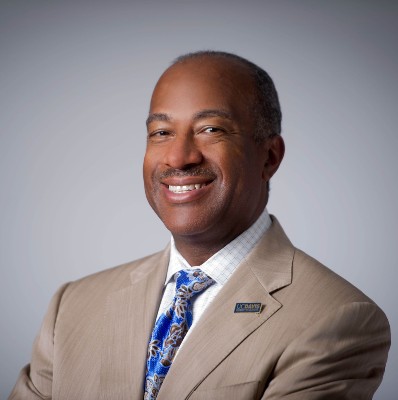 On Monday, February 27, Penn Engineering hosted the third Joseph Bordogna Forum, featuring a lecture from Dr. Gary S. May, Chancellor at the University of California, Davis, titled "The Diversity Imperative." 
The Joseph Bordogna Forum was established to foster conversation and debate regarding important issues at the core of technology and society. It features lectures on a wide range of contemporary issues that are central to engineering, including diversity and inclusion, the role of technology in our social fabric, and questions of fairness, justice and equity.
Throughout his career, May has championed diversity, equity and inclusion in both higher education and the workplace. In his lecture, May outlined that increasing diversity in STEM isn't just the right thing to do for social equity, it's a necessity. May highlighted how diversity is at the root of innovation and technological advancement, stating that it is imperative that we increase the number of women and underrepresented minorities in STEM fields. 
The Joseph Bordogna Forum is named in honor of the late Joseph Bordogna, who served as Dean of Penn Engineering from 1981 until 1990. Throughout his career, Bordogna worked to include underrepresented populations in science, technology, engineering and mathematics education, and Penn Engineering is proud to continue his work and celebrate his legacy. Additional information on the Joseph Bordogna Forum, including Bordogna's complete biography, can be found here.
Dr. May's lecture, "The Diversity Imperative," was recorded and is available now for your viewing.