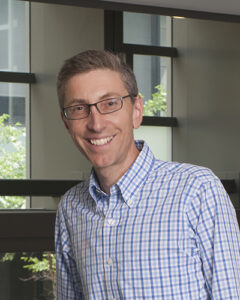 Interim Provost Beth A. Winkelstein has announced the appointment of Russell J. Composto as Faculty Co-Director of Penn First Plus (P1P), beginning July 1, 2023. Composto is currently Professor of Materials Science and Engineering, Howell Family Faculty Fellow, and Associate Dean for Undergraduate Education in Penn Engineering.
"Russ Composto has long been one of our campus leaders in advancing support and mentoring for our students," said Interim Provost Winkelstein, "including new programs for student wellness, community service, and research and mentoring for first-generation and/or low-income students. He is one of the leaders of our exciting new initiative to increase inclusivity in STEM education at Penn, which just received a major six-year grant from the Inclusive Excellence initiative of the Howard Hughes Medical Institute. Within Penn Engineering, he led the development of a new engineering curriculum and a new program of individualized student advising, both of which have been highly successful in enhancing the academic experiences of our undergraduates.
"I am extremely grateful to Robert Ghrist for his longstanding dedication to Penn's undergraduates and his leadership over the past five years as an inaugural Faculty Co-Director of P1P, as well as to ongoing Faculty Co-Director Camille Charles, Executive Director Marc Lo, and the outstanding P1P staff and extended team for their work in sustaining P1P's invaluable mission on our campus."
Penn First Plus, founded in 2018, provides support, resources and community-building for undergraduate students who identify as lower- to middle-income and/or are the first in their families to attend college. It includes the Shleifer Family Penn First Plus Center in College Hall and the Pre-First Year Program, an intensive four-week summer program for select incoming first-year students, preceding New Student Orientation, that offers comprehensive support services which continue throughout students' undergraduate experiences at Penn.
Composto has served as Associate Dean for Undergraduate Education in Penn Engineering since 2015. In more than thirty years at Penn, he has also served as both Undergraduate Chair and Graduate Group Chair of Materials Science and Engineering and has been awarded the Provost's Award for Distinguished Ph.D. Teaching and Mentoring, the Geoffrey Marshall Mentoring Award of the Northeastern Association of Graduate Schools, and the Ford Motor Company Award for Faculty Advising.
He is a world-leading pioneer of polymer science who is a Fellow and former Chair of the Division of Polymer Physics of the American Physical Society, has received a Special Creativity Award from the National Science Foundation, and recently became Co-Director of a major NSF-funded initiative to bring together soft matter, data science, and science policy as part of the NSF Research Traineeship Program, which encourages transformative models for training of STEM graduate students, especially in new, high-priority interdisciplinary research areas. He received a Ph.D. and M.S. from Cornell University and a B.A. in Physics from Gettysburg College.