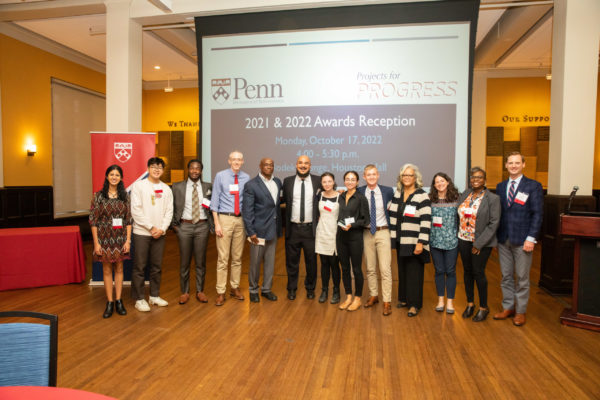 The Projects for Progress awards reception celebrated the 2021 and 2022 recipients. 2021 recipients are pictured with Charles "Chaz" Howard, University Chaplain and Vice President for Social Equity & Community. (Image: Eddy Marenco)  
An October 17 event celebrated the work of six Projects for Progress (P4P) teams set out to improve the quality of life in West Philadelphia: one by addressing the primary care needs of homeless and underserved people, one by revamping the Cobbs Creek Community Environmental Center, and one by addressing the COVID-induced learning gap in elementary school students and educators.
Ocek Eke, Penn Engineering's director for graduate student academic programming,  and his core team for the Cobbs Creek Community Environmental Center (CCCEC) P4P project: Anna Balfanz, Academically Based Community Service (ABCS) Coordinator at the Netter Center; Cooper Yerby, a doctoral student in the School of Arts & Sciences' Department of Earth and Environmental Science; and Erica DePalma, formerly the senior water systems program manager in Penn's Water Center were formally honored for their work with the CCCEC at the ceremony.
For the last year, with support from the Projects for Progress (P4P) award, Eke and his colleagues from Penn have collaborated with Center staff and the Cobbs Creek community to enhance resources to assist similar learning opportunities at the CCCEC. Their goal is to promote equitable access to STEM education for residents of the Cobbs Creek neighborhood. The $100,000 received for their project has gone toward purchasing new equipment to facilitate existing programs and support further educational opportunities at CCCEC. Additional aid from a Making a Difference in Diverse Communities grant from the School of Arts & Sciences and from the City of Philadelphia is providing more enhancements to the Center and its programming as well.
"If we want to get students interested in STEM education, it has to be early," says Eke. "When you bring them here, in a place like Cobbs Creek, and they can run around the creek, get their feet all wet and muddy and look at the little fish that are swimming around and start asking questions—by having a place like this, we have the potential to not just raise awareness, but to spark curiosity."
2021 Projects for Progress Recipients – A Collaborative Initiative to Renovate and Optimize the Cobbs Creek Community Environmental Center
Chinedu "Ocek" Eke, School of Engineering and Applied Science— director for graduate students programming, Office of Diversity, Equity and Inclusion
Anna Balfanz, Netter Center for Community Partnerships— senior research coordinator
Cooper Yerby, School of Arts & Sciences 2023— doctoral program in earth and environmental science
Erica DePalma, formerly of the Water Center— research program coordinator, Earth and Environmental Science Department
First awarded in 2021, the Projects for Progress are managed by Penn's Office of Social Equity & Community, which distributed $100,000 each to three teams of Penn students, faculty, and staff working to promote equity and inclusion in Philadelphia by addressing health care, education, and environmental justice.
Read "Projects for Progress, two years in" at Penn Today.