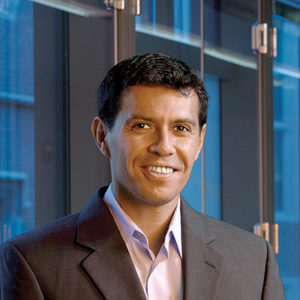 Paulo Arratia, Professor in the Departments of Mechanical Engineering and Applied Sciences (MEAM) and Chemical and Biomolecular Engineering (CBE), has been named a 2022 American Physical Society (APS) Fellow. Arratia, has been awarded this honor by the American Physical Society Division of Fluid Dynamics.
This prestigious recognition granted by peers is being bestowed upon Arratia, "for creative and insightful experimental discoveries in the fields of complex and biological fluid mechanics."
The APS Fellowship Program was created in 1921 to recognize members who have made advances in physics through original research and publication, or have made remarkable innovative contributions in the application of physics to science and technology. Fellows may also have made notable offerings to the teaching of physics or service and participation in the activities of the society. 

APS is a nonprofit membership organization working to advance and diffuse the knowledge of physics through its outstanding research journals, scientific meetings, and education, outreach, advocacy, and international activities. APS represents more than 50,000 members, including physicists in academia, national laboratories, and industry in the United States and throughout the world.