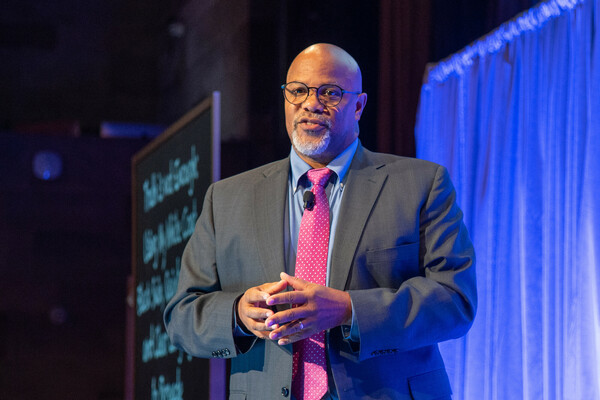 This past weekend in New York City, the University of Pennsylvania showcased its 24th Engaging Minds event, the first in person since 2019. It was hosted by Penn Alumni.
Three Penn Integrates Knowledge University Professors — Kevin Johnson, Lance Freeman and Dolores Albarracín, — each discussed their research. The audience, at least 600 in person and remote, heard about using city planning to promote racial equity, about how conspiracy theories come to life and propagate, and about the need for physicians to communicate effectively with patients and families.
Following brief remarks from Penn Alumni President Ann Reese, University President Liz Magill introduced the event. "As many of you know, I've been thinking a lot and speaking often about what makes Penn Penn," she said. "What are our distinctive strengths? What are the unique contributions to society that we have made in the past and can make in the future? And where do we go from the extraordinary position we are in now?" 
Magill went on to express gratitude for the speakers and invited the audience to think about how the researchers' work and expertise furthered what she described as the "twin principles of truth and opportunity."
Effective communication
Johnson, the David L. Cohen University Professor with joint appointments in the Department of Computer and Information Science in the School of Engineering and Applied Science, and the Department of Biostatistics, Epidemiology, and Informatics in the Perelman School of Medicine, started his talk with a case study. "That case is going to be my case," he said.
He took the audience through his family history, education and training, pausing at a point on the timeline when he was a young physician-scientist who had just explained a new medical topic to a journalist. "I felt really good about the conversation — and then the article came out," Johnson said.
In the piece, he had been cast as saying that the medical community was over-treating this condition, "which is not what I said." He realized in that moment that as a physician, he had been taught to communicate what a study finds, not how to act based on those findings. That experience shifted his thinking on how to communicate scientific topics, and he has spent decades trying to move the needle on how others in his field perceive this.
"As scientists we face obstacles. We face the obstacle of scale, so, small projects that we're asked to generalize. We face the issue of trust. And then we face the issue of values," Johnson said. "I'll add a fourth, which is format; the way we choose to reach specific audiences will be different."
This story is by Michele Berger. Read more about the 24th Engaging Minds at Penn Today.