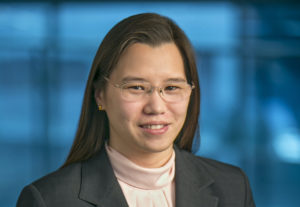 Cynthia Sung, Gabel Family Term Assistant Professor in the Departments of Mechanical Engineering and Applied Mechanics and Computer and Information Science, has received the Office of Naval Research (ONR) 2023 Young Investigator Program (YIP) Award.
The ONR YIP is a highly competitive and popular early-career award program where prior academic achievement and potential for significant scientific breakthrough are key elements of the evaluation criteria. The 2023 YIP awardees were chosen from more than 170 applicants — all of whom are college and university tenure-track faculty and obtained a Ph.D. on or after January 1, 2015.
Sung received the award for her proposal "Salp-Inspired Reconfigurable Robot Platform for Long-Term Distributed Sensing" in ONR's Human & Bioengineered Systems Division, which aims "to direct, plan, foster and encourage science and technology in cognitive science, computational neuroscience, bioscience and bio-mimetic technology, physiology and biophysics, immunology, social/organizational science, training, human factors, and decision making as related to Naval needs." This award will provide up to $750,000 in support.
Inspired by salp locomotion, the project aims to develop a novel soft, underwater robot platform suitable for long-term and long-distance sensing, monitoring and exploration. The novel origami-inspired design enables a lightweight, deployable robot with the ability to swim individually for wide-area coverage or attach to other units for more energy-efficient, long-distance travel.