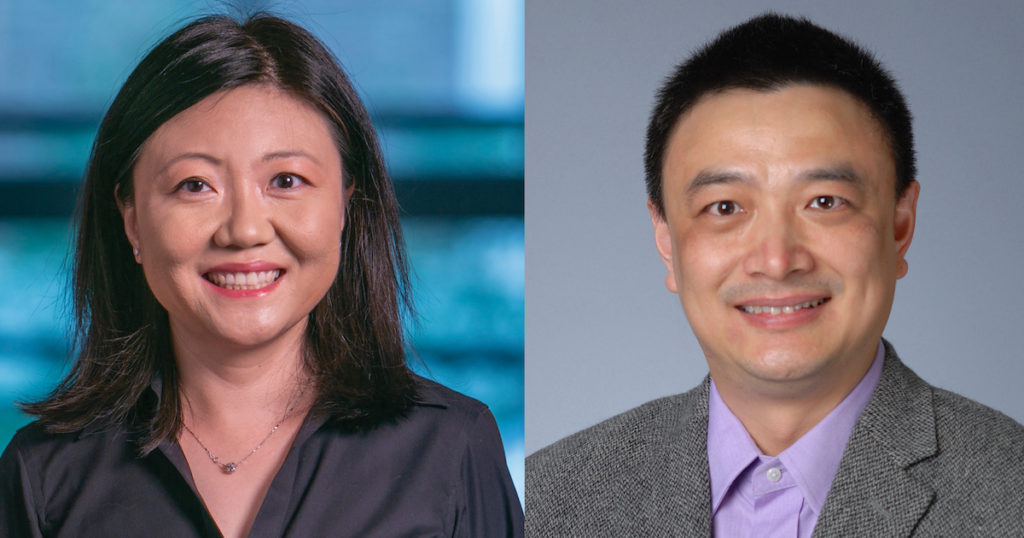 Jing (Jane) Li of the University of Pennsylvania's School of Engineering and Applied Science, and Li Shen of the Perelman School of Medicine have been named Distinguished Members of the Association for Computing Machinery (ACM), the world's largest computing society. They join 65 others honored for work that has "spurred innovation, enhanced computer science education, and moved the field forward."
This year's class of Distinguished Members includes researchers who have worked in areas such as computer science, cybersecurity, data management, health care information technology, mobile computing, and more. Honorees must have made a "significant impact in the field of computing, computer science, or information technology." Li and Shen were honored for "outstanding scientific contributions to computing."
"The ACM Distinguished Members program honors both accomplishment and commitment," says ACM President Yannis Ioannidis. "Our Distinguished Members are leaders both within ACM and throughout the computing field."

Jing (Jane) Li is the Eduardo D. Glandt Faculty Fellow and associate professor in the departments of Electrical and System Engineering and Computer and Information Science in the School of Engineering and Applied Science. She is recognized for her foundational research on memory and memory-driven computing from device/material to computer architecture and software/algorithm. In addition to principles and theory, her research also emphasizes real system prototyping at the chip and system level. One supercomputer prototype developed by Li's lab, ENIAD, was ranked No. 1 on the GreenGraph500 list, outperforming many of the most energy-efficient contemporary supercomputers worldwide.

Li has received numerous awards including the DARPA Young Faculty Award, NSF Career Award, Amazon faculty award, IBM Research Division Outstanding Technical Achievement Award, and IBM Invention Achievement Award. She has more than 80 publications in top-tier peer-reviewed conference proceedings and journals and more than 40 issued U.S. patents. She is a frequently invited speaker and panelist and served on the SRC-SIA Webinar Decadal Plan for Semiconductors on Memory and Storage as the only academic representative along with industry and government leaders.

Li Shen is a computer scientist and bioinformatician who is a professor and the interim director of informatics in the Department of Biostatistics, Epidemiology, and Informatics at the Perelman School of Medicine. He is also a senior fellow at the Penn Institute for Biomedical Informatics and the Leonard Davis Institute of Health Economics. His research includes medical image computing, biomedical informatics, machine learning, network science, imaging genomics, multi-omics and systems biology, Alzheimer's disease, and big data science in biomedicine.

The goal of his lab is to advance computer science and bioinformatics by producing novel algorithms for analyzing large-scale datasets and to provide important new insights into the genetic and environmentally influenced structures and functions of medical conditions to impact the development of new diagnostic, therapeutic, and preventative approaches.

The complete list of ACM distinguished members is available on the ACM website at https://www.acm.org/media-center/2022/december/distinguished-members-2022.