Kathleen Stebe Wins 2018 Langmuir Lectureship Award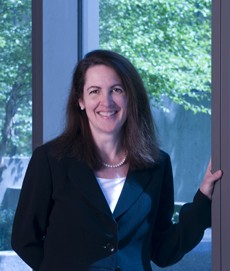 Kathleen Stebe, Penn Engineering's Deputy Dean for Research and Richer & Elizabeth Goodwin Professor of Chemical and Biomolecular Engineering, has won the 2018 Langmuir Lectureship Award.
The award, presented by the American Chemical Society's Division of Colloid & Surface Chemistry and its journal, Langmuir, recognizes individuals working in the interdisciplinary field of colloid and surface chemistry. Professor Orlin Velev of North Carolina State University will also receive the award this year.
ACS Axial described the aspects of Stebe's research that earned her the honor.
"This year's Langmuir lecturers are outstanding scientists who display remarkable creativity in using fundamental research in colloid and interface science to develop new materials and devices," says Langmuir Editor-in-Chief, Françoise Winnik.
[Stebe's] research focuses on directed assembly in soft matter, including particles interacting by capillarity on interfaces, and particle assembly in complex fluids, liquid crystals and lipid bilayers. "Professor Stebe's insights have produced new paradigms to understand, control, and exploit fluid interfaces far from equilibrium, touching fields from materials assembly to microfluidics and biology. She conducts elegant experiments supported by analysis and simulations that clearly demonstrate new concepts," says Winnik.
Recently, Stebe published a study showing how a specialized liquid mixture known as a bicontinuous interfacially jammed emulsion gel, or bijel, can be used to make nanoparticle-studded filters that don't get clogged with slimy build-up.
Stebe will lecture on her research at a dedicated symposium and award ceremony during the 2018 Fall ACS National Meeting in Boston, Massachusetts.
For more information, continue reading at ACS Axial.