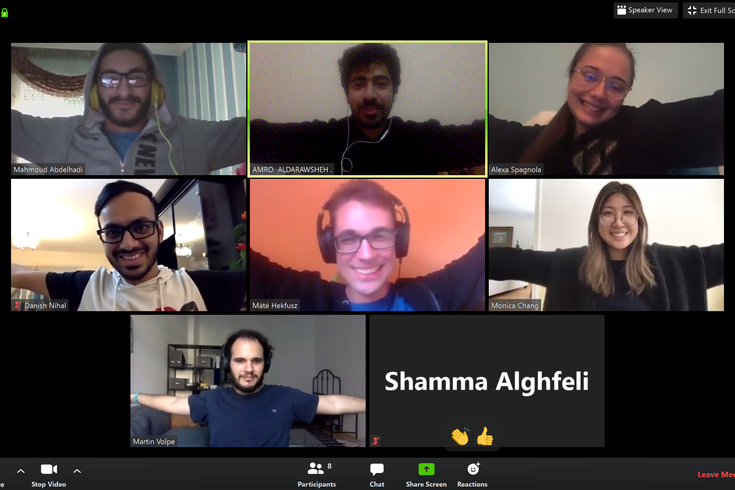 Alexa Spagnola is a junior studying electrical engineering. Last month, she and her team took first place in the NYU Abu Dhabi Hackathon for Social Good in the Arab World. This highly selective, invitational competition puts 60 top computer science and engineering students from around the world into teams and tasks them with developing a mobile or web-based app that serves a humanitarian purpose. Their project, Health Hero Match, has been covered in the Philadelphia Inquirer, Philly Voice, and Entrepreneur Magazine.
Due to the COVID-19 pandemic, the existing amount of hospital medical staff is stretched thin across a rapidly increasing patient load. When I was accepted to the NYU Abu Dhabi Hackathon for Social Good, I was inspired to take on this massive problem. This hackathon is a global coding competition in which teams build apps or websites to best solve a socially relevant problem. While this annual event normally takes place on campus in the United Arab Emirates, the pandemic meant that this year the event took place virtually for the first time ever. It also focused my team's mission on the greatest common challenge facing us right now.
In the UAE alone, medical teams are working an average of 15-hour shifts and taking nearly 150 appointments per day. This can lead to extreme stress for these workers, and a diminishing level of care for their patients.
My team won First Place in the entire world for our hack: Health Hero Match, a web-based platform that uses artificial intelligence to connect non-deployed medical staff with hospitals currently facing staffing shortages. By proactively reducing the workload of current medical workers on the frontline of the COVID-19 pandemic, our project has the potential to save lives across the globe.
While honored to be selected by the panel of judges for the top prize, it is truly humbling to be a part of this event in the first place. To participate, students must be nominated by their university, and each university may only nominate one student. Those nominees are then evaluated such that 60 students are admitted: 30 from the UAE, and 30 from around the rest of the world. Students then select a sector for which they want to create a solution, such as healthcare, education, community or public safety, and form groups. Mentors are added to groups to oversee communication and provide additional support.
Although everyone on my team started as strangers, this project has brought us all together in an amazing way, proving how a team can succeed not in spite of, but because of its intellectual diversity. We were inspired by stories of American and global healthcare heroes who uprooted their lives and moved to places such as New York City, where there was a great need for medical staff in the wake of the COVID-19 outbreak. We wanted to build something that would simplify the transition process for medical personnel and provide them with easy access to the resources they may need after relocation, such as hotels offering free housing for healthcare workers and food banks.
Since it is a double-sided platform (similar to Airbnb or Uber), Health Hero Match works by also allowing hospitals to post their crisis hiring needs in real-time based on our AI projections of when COVID-19 cases will rise in a given city. By connecting available medical workers who are willing to temporarily relocate with the hospitals that need them most, we are providing relief to high-demand areas in the most logistically sound way possible.
While the COVID-19 is the outbreak currently on everyone's minds, we predict that our platform will have even greater use in the future, as studies show that pandemics will become even more prevalent. This platform has the ability to expand even beyond the scope of just pandemics, and we are excited to see all it can do as the project continues to grow. With Health Hero Match in our arsenal, we can be better prepared to deal with the obstacles standing between us and a healthy world.
It's more important than ever that we amplify one another's voices and we want to hear from you. Learn more about Penn Engineering's Share Your Story project here, and read entries here. You can also keep up-to-date on Penn Engineering's pandemic response efforts here.