Now in its fifteenth year, Pennvention prides itself on being the sole Penn entrepreneurship competition with a primary focus on technological innovation. Over the course of the competition, entrants pitch an idea, develop a product, receive help from mentors and enter to win over $20,000 in prizes.
This year's winner was Headway, a wearable device for improving communication in minimally invasive surgeries. The winning team members are Integrated Product Design (IPD) graduate students Julia Lin, Jonah Arnheim, Qian Wan and Laura Ceccacci.
Lin, Arnheim, Wan and Ceccacci came together as a team from a shared interest in healthcare and diverse backgrounds in mechanical engineering, digital design and medical device strategy. When the team began to work on Headway in the fall semester, they reached out to Penn Medicine and the Children's Hospital of Philadelphia to guide their understanding of surgeons' needs.
"It was really important to us to have that feedback and stakeholder involvement from surgeons at Penn Medicine during the Headway development process," Lin says. "That connection helped us feel grounded in our work, since none of us on the team come from a clinical background."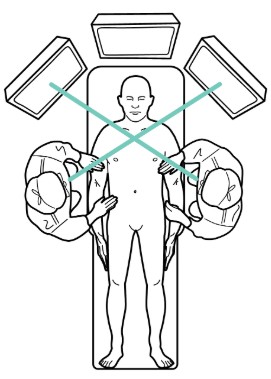 Headway was created to address a critical need in the healthcare industry: surgeon-assistant communication during minimally invasive surgeries (MIS). During MIS, surgeons only make small incisions to insert laparoscopic tools, which means operating without a direct line of sight. An assistant stands across from the surgeon and maneuvers a laparoscopic camera to project an image of the surgical site inside the patient's body onto multiple monitors in the OR. The assistant must hold the camera to keep the surgeon's tools and target in view, and, when the surgeon moves to a different operating location, the assistant must move the camera as specified. Effective communication between surgeon and assistant is critical during surgery to prevent delays or complications, but the Headway team noticed a significant gap in communication between a typical surgeon and assistant.
To remedy this, the team created Headway, a hands-free pointer device that enables the surgeon to direct their assistant with greater accuracy and efficiency.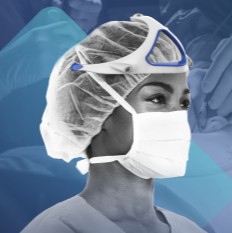 The Headway system includes a headset that is worn by the lead surgeon and a hardware box, which is attached to the surgical monitor. Surgeons control the position of an on-screen indicator with their head position, and Headway overlays an indicator onto the surgical monitors. By creating a shared visual, the surgeon's verbal instructions are reinforced to operating team members. An assistant can quickly and confidently move the camera to the desired location and allow the surgeon to continue operating.
The Headway team began prototyping their device before Penn's spring break this year and received feedback from surgeons and medical students. But, during the break, the team learned that they would not be able to return to campus to continue testing as a result of the COVID-19 outbreak and subsequent campus shutdown.
Despite this obstacle, the team rallied together and pivoted from prototyping and testing to developing the blueprints for the physical design, digital workflows and business plan for Headway, all of which could be done remotely. When the shutdown was announced, Lin joined
Penn Health-Tech to manually assemble face shields for medical workers. The project involved many of the same skills that Lin had been fine-tuning for Headway, and was able to gather design and manufacturability feedback of a head wearable that directly informed her team's work.
As Grand Prize winners for Pennvention, Headway has received $5,000 to continue their work. The project was also nominated as a semifinalist for the Penn Wharton Startup Challenge.
"Ever since COVID-19 happened, I'm really proud of what our team has been able to build and accomplish," says Lin.