Commemorating the Career of Portonovo Ayyaswamy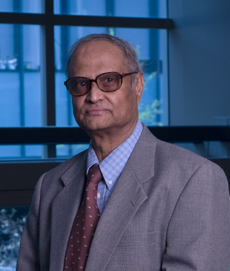 On May 9, an all-day symposium will celebrate the career of Portonovo Ayyaswamy, Asa Whitney Professor of Dynamical Engineering in the department of Mechanical Engineering and Applied Mechanics (MEAM), who will retire this year. The symposium will feature presentations by top researchers from across the U.S., in the areas of heat and mass transfer, fluid mechanics, and biomedicine — areas in which Ayyaswamy has made major contributions over his career.
The symposium is being organized by Jennifer Lukes, professor in MEAM, Ravi Radhakrishnan, professor in Bioengineering and in Chemical and Biomolecular Engineering, and David Eckmann, Horatio C. Wood Professor of Anesthesiology and Critical Care with a secondary appointment in Bioengineering.
Over the years, Ayyaswamy's contributions to research in heat transfer, mass transfer, and fluid mechanics have been diverse and substantial. His work has included investigations on the effects of surfactants in relation to gas embolism, nanoparticle motion in the context of drug delivery, and the effect of electric fields on flames under normal and microgravity conditions.
Ayyaswamy's research has impacted the design of a range of technologies, such as nuclear reactor containment spray systems, countermeasures for the astronaut bone-loss problem, and flat-plate solar energy collectors. He is also recognized for his mentorship and collaboration.
"I first met Ayya when he was a visiting professor at the University of California, Berkeley, where I was a Ph.D. student," says Lukes. "Since then, his support and advice have been very valuable to me at various stages in my career."
"Ayya is a fierce applied mathematician who is precise with his words, and is very witty and personable among his colleagues and collaborators. He has a unique eye for rigor and depth in research and always follows up original ideas with comprehensive analysis," says Radhakrishnan.
"Ayyaswamy is a true scholar," says Eckmann. "He is also an extraordinary mentor because of his profound understanding of mechanics, because his door is always open, and because he has dedicated his career to team efforts and success."
Find more information about the day's events on the MEAM website.