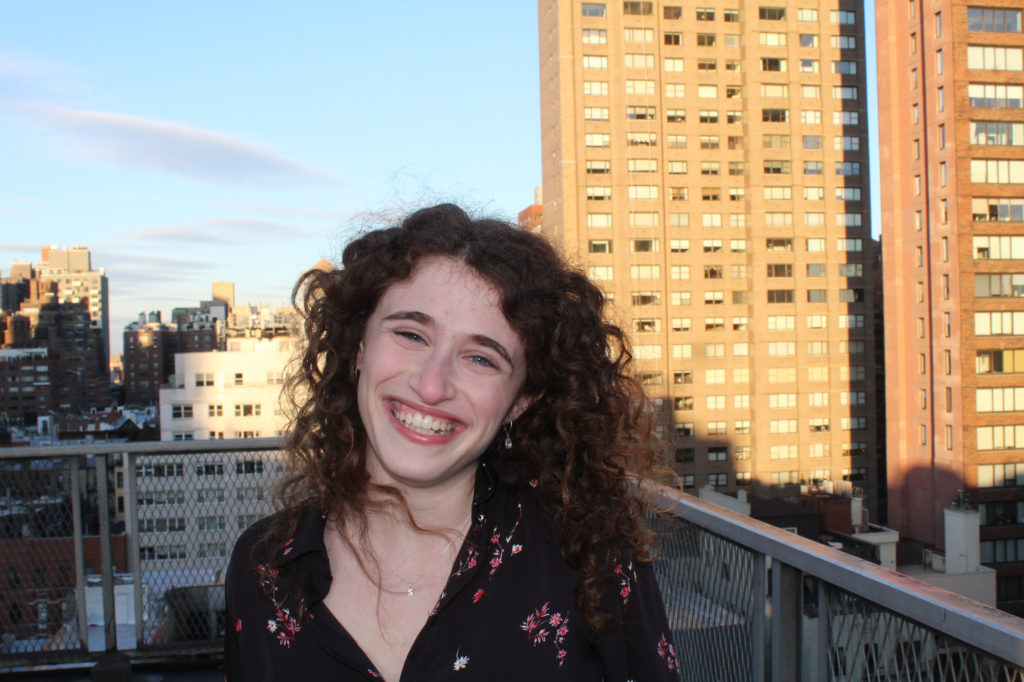 On any given day, Sarah Sterinbach might be hosting online events for educate environmental activists, camping in protest of fossil fuel investment, or 30 pages deep in a municipal climate policy plan. A rising Penn junior from New York City, Sterinbach is majoring in environmental science and urban education. Those fields normally might not go together, says Sterinbach, but she revels in the intersections between them: "It's something I'm really passionate about."
Sterinbach is driven to clear-eyed action today, but she finished high school full of uncertainty. "I've always been scared about climate change," she says. "But I had no clue what I wanted to do with my life."
She came to Penn hoping to take advantage of the university's focus on interdisciplinary research, and when, after joining a group of climate activists on campus, she learned about the disproportionate effects of climate change on vulnerable communities, she knew that she had to work for a more sustainable future.
This summer, she's doing just that, researching the ways that Philadelphia has used policy to combat urban heat. She's found that seemingly simple changes in social and physical infrastructure could help protect people from the most extreme heat, and she plans to build an app to help Philadelphians stay cool and safe during the hottest days of the year.
Although extreme heat might be most associated with places in the South and Southwestern United States, urban centers in more northerly states often suffer from life-threatening heat waves. Dark-colored rooftops, roads, and infrastructure absorb and retain heat, raising the temperature of the city several degrees compared to outlying areas, forming so-called urban heat islands.
Even within cities, neighborhoods can experience huge temperature differences, with outsized effects on low-income communities of color. In Philadelphia, for example, poorer communities, which tend to be denser with less tree cover, can be up to 22°F hotter than their wealthier counterparts.
To help address this, Russell Composto of the School of Engineering and Applied Science and Kristin Field, director of education of Penn Research and Education in Active Coatings Technologies (REACT), recruited Sterinbach and rising sophomore Seito Sanford through the Penn Undergraduate Research Mentoring program to research political and engineering solutions to urban heat.
"The problem requires all of us to work together across disciplines to address urban heat with technological solutions, community engagement, smart regulations, and social science," says Composto. Sanford has been focusing on a technological solution for cooling roofs, while Sterinbach looks at current policies to combat heat in Philadelphia.
Pennsylvania's TreeVitalize program is one example, offering funding to communities to plant trees, which provide shade that can cool areas by up to 10°F. Philadelphia also adopted a cool roof ordinance, requiring that roofs of certain new commercial buildings have white paint or other coatings that reflect heat from the sun.
In terms of social policy, the city instituted an emergency heat advisory system, which one report found prevented more than 100 heat-related deaths in its first three years, and the School District of Philadelphia has begun dismissing students early on school days with extreme heat.
These policies are a good start, Sterinbach says, but she thinks that future policy initiatives might extend the cool roof ordinance to more buildings in the city, help provide air conditioning to schools and buildings that currently lack it, and include more concerted community involvement.
Here, she cites the city's "Beat the Heat Hunting Park" initiative, which gathered community members throughout the neighborhood, one of the poorest and hottest in the city, and gave them information about options for combating urban heat. The program then empowered residents to design an urban heat response plan that might serve their community best. Sterinbach says this model is a great start and one she hopes other neighborhoods affected by extreme heat might replicate.
This work is more crucial than ever now. According to a 2021 NOAA report, extreme heat kills more people in the United States than any other weather event, including floods, hurricanes, and tornadoes. Even the most recent heat wave in Philadelphia has already proven fatal. "Climate change is not just something that's happening in the future," she says. "It's happening right now, and it's specifically affecting low-income, BIPOC people."
While this grim reality adds a sense of urgency to Sterinbach's work, she says she still believes in her ability to help build a more just, sustainable world and be a "force for good for the community in West Philly."
To that end, she recently wrote and submitted a proposal to the Environmental Protection Agency with Field and Composto to develop an app that would let Philadelphians know how to stay cool in the heat, direct them to their nearest cooling center, and keep them informed about public heat advisories.
Looking ahead to her career, Sterinbach knows one thing for certain: "Whatever I do, I want to dedicate my life to making other people's lives better."
---
This post originally appeared at Penn Today. 
Russell Composto is a Howell Family Faculty Fellow, professor of materials science and engineering, bioengineering, and chemical and biomolecular engineering, and associate dean for undergraduate education for the School of Engineering and Applied Science at the University of Pennsylvania.
Kristin Field is the director of education and professional development at PIRE REACT and the Singh Center for Nanotechnology and a co-principal investigator for REACT at Penn Engineering.
This research is funded by the Penn Undergraduate Research Mentoring Program through the Center for Undergraduate Research & Fellowships.