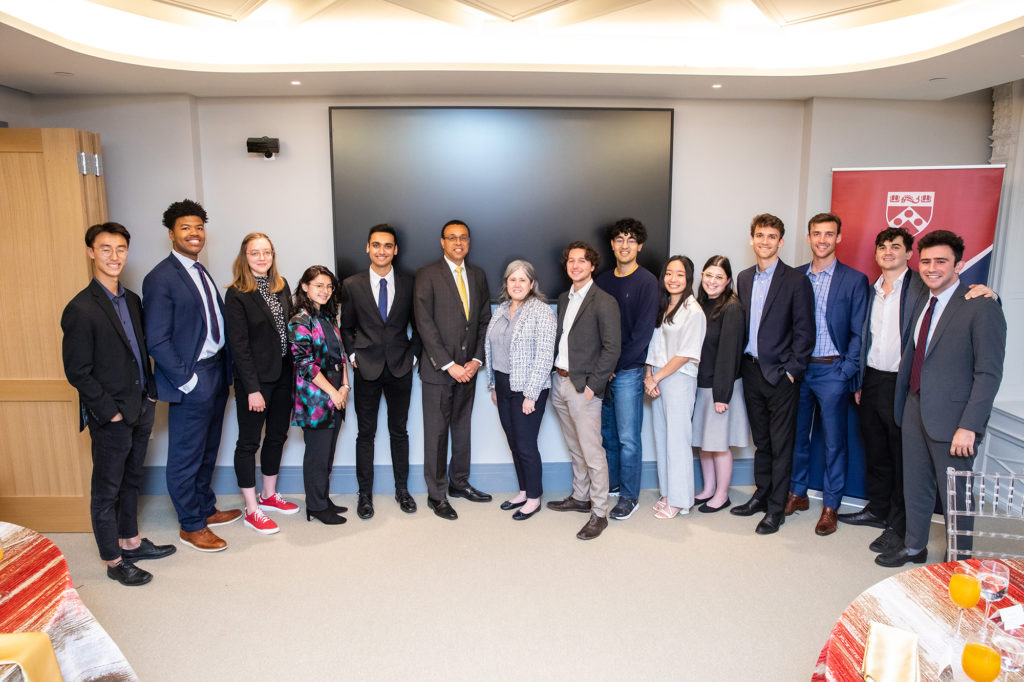 Last week, on a sunny spring day, the 2022 President's Engagement, Innovation, and Sustainability Prize winners were recognized at a special luncheon, a momentous occasion that hasn't taken place in-person since 2019. The 12 Prize recipients and their advisers, as well as past Prize winners and Penn leadership, joined together at the University Meeting and Guest House for a meal, good conversation, and celebration.
To the group, as well as family members tuning in through Zoom, Interim President Wendell Pritchett described this year's winners as exemplifying creativity and leadership. "They epitomize why these prizes are central to the vision we share for Penn," he said, before distributing handcrafted certificates to each of the six teams.
Eli Moraru, who earned one of the inaugural President's Sustainability Prizes for his nonprofit The Community Grocer, said the event was uplifting for two main reasons: The first being that he got to network with his fellow PEP/PIP/PSP cohort, and the second being his connection with past Prize winners.
"It's a real community," Moraru said, sharing, as an example, how Christina Miranda from Be Body Positive Philly—a winner in the 2021 cohort—approached him expressing her interest in serving as a resource to his team in any way possible.
"It's just one more reason showcasing how we aren't alone in this," Moraru said.
Chosen from an applicant pool of 71 people, the two other President's Sustainability Prize-winning teams include Saif Khawaja for Shinkei Systems and Sarah Beth Gleeson, Shoshana Weintraub, and Julia Yan for EcoSPIN. Earning a President's Innovation Prize, which was founded in 2016, is William Kohler Danon and Lukas Achilles Yancopoulos for Grapevine. In 2015, the very first President's Engagement Prizes were announced. This year, Penn awarded this honor to two teams: Seungkwon Son, Max Strickberger, and Sam Strickberger for College Green Ventures and Manoj Simha and Rowana Miller from Cosmic Writers. Each team receives $100,000 to help get their projects off the ground, plus a $50,000 living stipend post-graduation per person.
Continue reading at Penn Today.