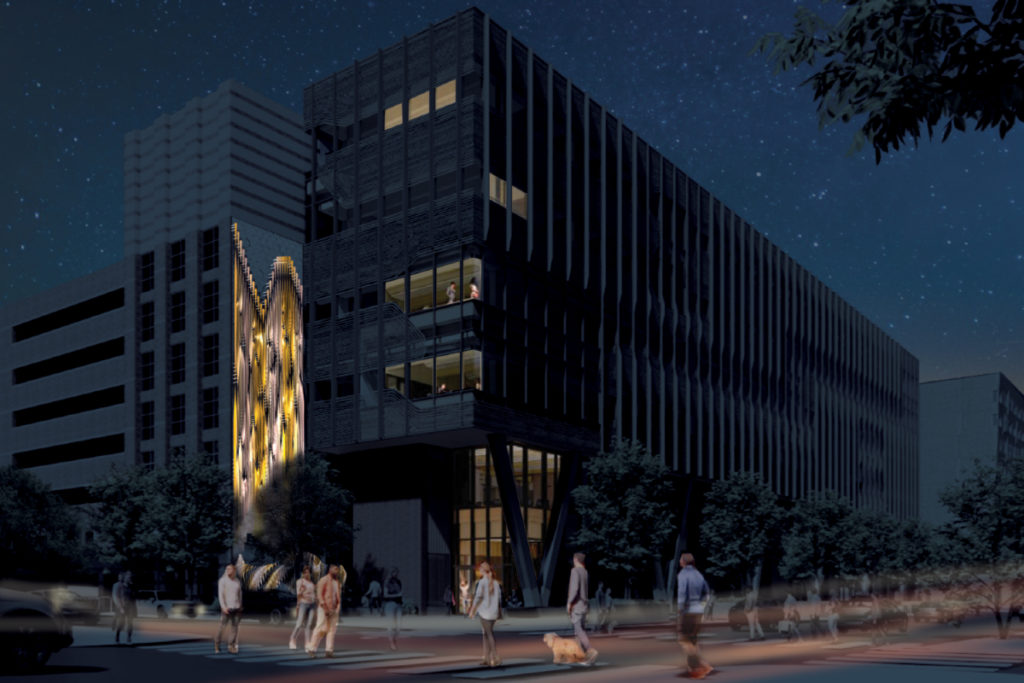 Located at the northeast corner of 34th and Chestnut Streets, the forthcoming Amy Gutmann Hall will serve as the hub for Penn Engineering's IDEAS Initiative, a wide-ranging investment in data science: the field of research that analyzes and combines massive quantities of digital information to make otherwise impossible discoveries, models and predictions.
Penn Engineering has now awarded polymedia artist Eto Otitigbe a commission to create Cascode, a landmark public art installation that embodies this initiative. Measuring approximately 60 feet high, Cascode will be installed on the facade of the parking garage adjacent to Amy Gutmann Hall when it is slated for completion in 2024.
As part of the Philadelphia Housing Development Corporation's (PHDC) Percent for Art program, Cascode will encompass a mix of organic forms, natural materials and data-informed design to represent the intersection of environment, health, community and data, and its collective impact on West Philadelphia residents.
Otitigbe is a multidisciplinary artist interested in recovering buried narratives and giving form to the unseen, and his practice embodies sculpture, performance, installation and public art. Collaborating with Otitigbe, designer Michael Di Carlo will provide Cascode's computational design.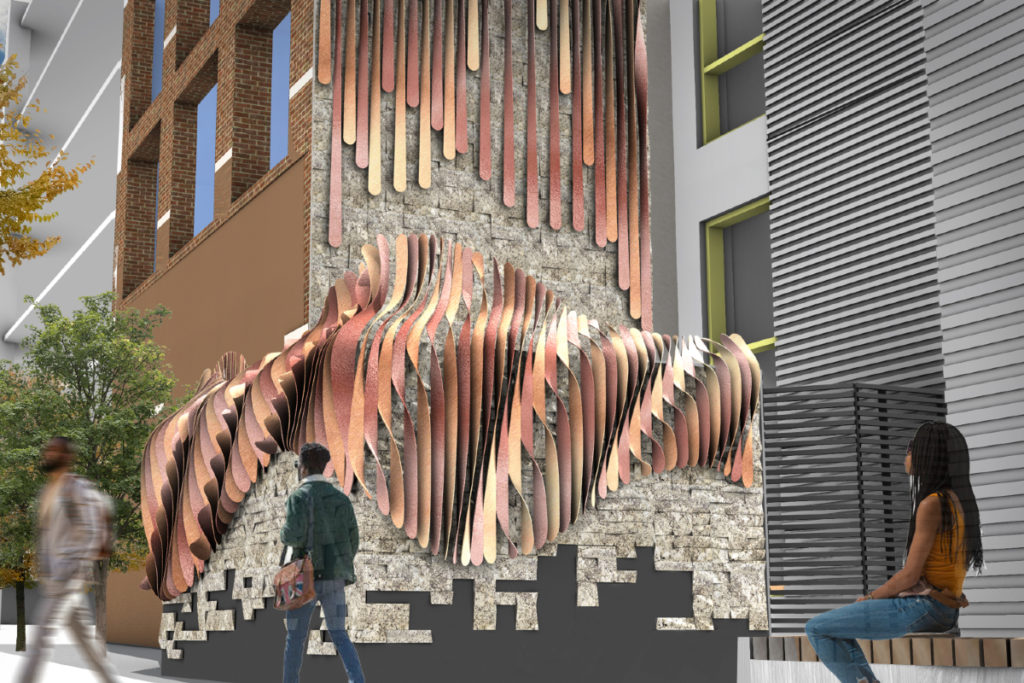 For Cascode, Otitigbe envisions a piece that translates hard data into interactive artwork that's representative and inclusive of the West Philadelphia community. The piece will be constructed of materials and forms that both parallel and deviate from Amy Gutmann Hall's proposed architecture — natural stones and metals in earth tones that play well in natural light, paired with LED lighting that lends itself to nighttime activation.
A large part of the Cascode project's design includes an online component in which a wide range of stakeholders — community members, students and faculty occupying Amy Gutmann Hall, and Penn at large — can respond to engaging prompts that provide data, which will in turn be used to inform Cascode's final form. In all stages of Cascode's development and launch, Atlanta-based arts nonprofit Dashboard will manage and produce public programming and engagement activities.
"I'm excited to apply the patterns found in nature and in numbers to artwork that will endure. Cascode speaks directly to the work being done within the walls of Amy Gutmann Hall: harnessing data science to build equity, ensure collective wellbeing and maintain environmental stewardship," says Otitigbe. "I am so honored to have been selected to create this monumental installation on Penn's campus."
Otitigbe will present an introduction to Cascode in a virtual public information session, tonight from 6–7pm.