Amish Patel Wins Van Ness Award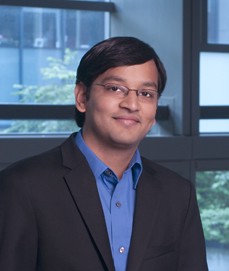 Amish Patel, Reliance Industries Term Assistant Professor in the Department of Chemical and Biomolecular Engineering, has been selected to receive the 2019 Van Ness Award by the Chemical and Biological Engineering Department at the Rensselaer Polytechnic Institute (RPI).
According to the RPI website, "The Van Ness Award is made in recognition of the achievements of the late H.C. Van Ness, Institute Professor Emeritus at Rensselaer Polytechnic Institute. It is presented annually to honor a chemical engineer who has made seminal contributions to the profession."
Patel's research focuses on understanding aqueous and polymeric systems at the molecular level. His lab's work on biochemical interactions between liquids and surfaces has applications that include water purification and energy storage. Patel's research has also earned him a 2017 NSF CAREER Award and a 2018 OpenEye Outstanding Junior Faculty Award.
To learn more about Patel, visit his lab website.