Robert Carpick Named ASME Fellow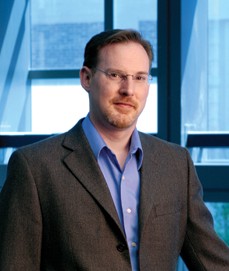 Robert Carpick, John Henry Towne Professor and Chair of Mechanical Engineering and Applied Mechanics, has been selected as a Fellow of the American Society of Mechanical Engineers (ASME). Founded in 1880, ASME is a leading engineering organization that emphasizes multidisciplinary collaboration and skill development. Of its more than 100,000 members around the world, less than 4,000 have attained the grade of Fellow.
The ASME Fellow distinction recognizes nominee for their significant engineering achievements.
Carpick's engagement in the ASME community and his years conducting foundational research in the engineering field earned him the honor of ASME Fellow. Carpick and his lab focus on investigating the nature of many different materials, particularly characterizing the importance of friction, adhesion, wear, and lubrication at the nanoscale. His work has implications for understanding the role such factors play in a variety of systems, ranging from car parts to earthquakes.
To learn more about Robert Carpick's work, visit his lab website.