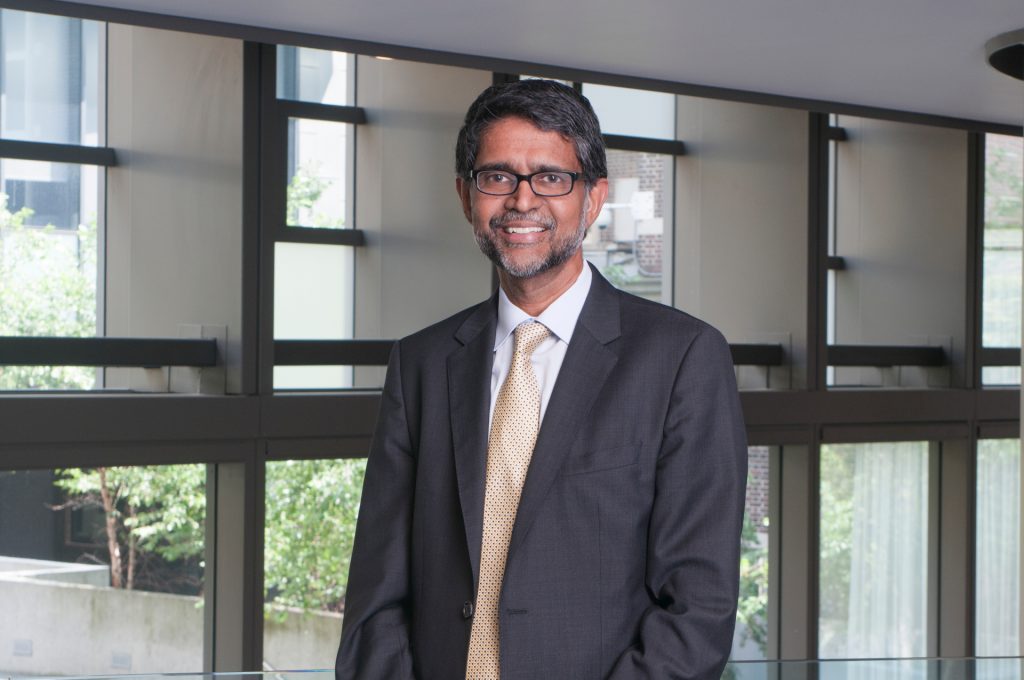 Vijay Kumar, the Nemirovsky Family Dean of Penn Engineering with appointments in the departments of Mechanical Engineering and Applied Mechanics, Computer and Information Science, and Electrical and Systems Engineering, is one of six members of the University of Pennsylvania faculty that have been elected to the American Academy of Arts & Sciences. The others are Cristina Bicchieri and Michael Hanchard of the School of Arts & Sciences, Stanley Plotkin and Kenneth Zaret of the Perelman School of Medicine, and Sarah Tishkoff, a Penn Integrates Knowledge professor with appointments in Penn Medicine and Penn Arts & Sciences.
They join more than 250 new members honored in 2021, recognized for their work to "help solve the world's most urgent challenges, create meaning through art, and contribute to the common good."
[Kumar] is an internationally recognized robotics expert who specializes in multi-agent systems, teams of robots that can cooperate to complete a task. Kumar's research on new ways for these teams to sense their environments and communicate will help them collaborate on tasks that no single robot could do on its own, whether splitting up to count oranges in an orchard or coming together to lift a heavy payload.

In addition to holding many administrative positions at Penn, Kumar has served as the assistant director of robotics and cyber physical systems at the White House Office of Science and Technology Policy. His lab has founded many startups in robotics, and he is the founder of Exyn Technologies. In addition to this most recent honor, he is a fellow of the American Society of Mechanical Engineers and the Institute of Electrical and Electronic Engineers and was elected to the National Academy of Engineering and the American Philosophical Society.
Read about the other recently elected members at Penn Today.