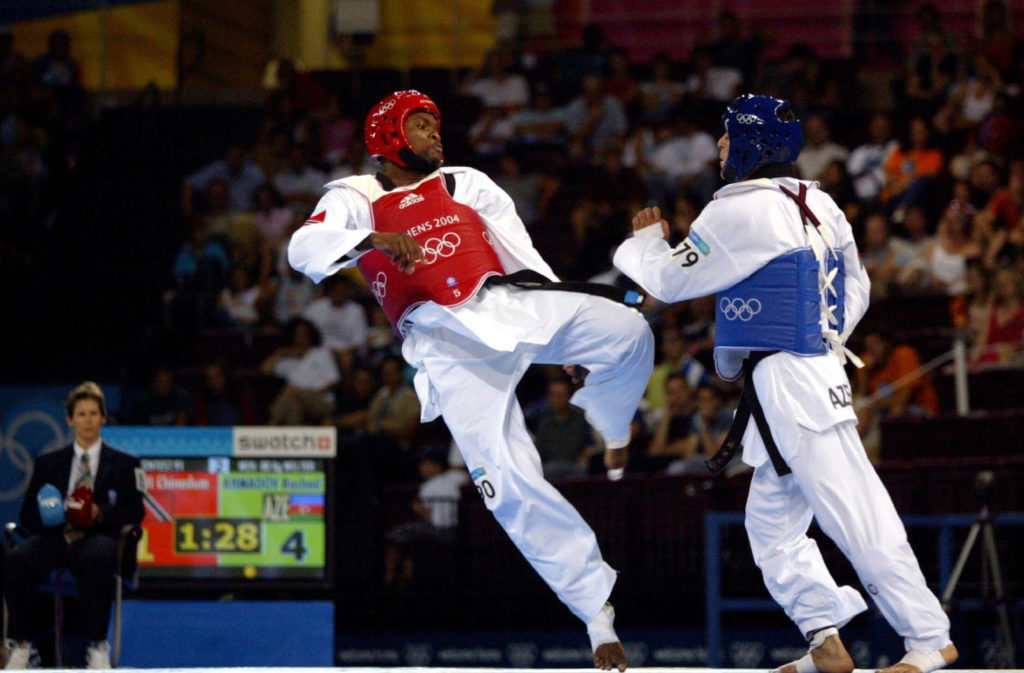 Earlier this summer, Chinedum Osuji, Eduardo D. Glandt Presidential Professor in the Department of Chemical and Biomolecular Engineering (CBE), began his term as department chair. Osuji also conducts research on soft materials and complex fluids, publishing work on topic areas such as material blends and membrane filtration. His work on the latter was used as inspiration for this year's Y-Prize, where students adapt an already-existing technology to solve a real world problem.
He's also an Olympic athlete, having competed in taekwondo at the 2004 Summer Games in Athens.
Osuji recently answered some questions about his early career path, his goals as chair and the kind of mindset it takes to succeed as an engineer.
When did you first realize you wanted to be an engineer?
I think it was around 4 years before I went to College/University. I was fascinated by the physical and chemical phenomena involving materials, and everyday substances in the world around me. I chose a broad range of science subjects for what we call "O Level" exams, and then refined that into Physics, Chemistry and Mathematics for A Level exams at the end of secondary school. I think that pretty much sealed the deal! 
Has taekwondo influenced the way that you think as a scientist?
Not directly, no, but engaging in taekwondo as a sport at a high level definitely influenced the way I think about people, and the way I understand ambition and struggle, progress and setbacks. It influenced the way I see fortune and preparation combining to give rise to opportunity. I think similar considerations are relevant in any human endeavor, including science, and so in this sense, yes, taekwondo is relevant, albeit indirectly, to the way I think as a scientist.
What was it like to compete in the Pan American games and the Olympic games?
It was incredibly special. I can only say this looking back however. In the moment it was much more of a matter-of-fact affair. My focus was on practical matters (training, sleeping, eating, travel arrangements, injuries!) which made it difficult to see the bigger picture, and perhaps that's as it should be. I did take great satisfaction though from just interacting with so many different people from different places, the vast majority of whom were similarly enthusiastic about meeting people who were from different places, or engaged in different sports. There was a certain camaraderie and respect that flowed freely, and I think that was special, and I was immediately aware of it. Competition, in terms of the sporting event itself, is interesting. Taekwondo is an individual sport, and so it's just you and your opponent out there, each trying to outdo the other. Somewhere in the back of your mind you understand you are carrying the expectations and hopes of others with you, but in the moment, that all disappears and your focus is singular.
What do you think are the most important soft skills for engineers to develop?
Great question. I am not sure this falls under soft skills, but I think the ability to communicate effectively is important to develop. I am fond of saying to my research group that our job is to develop new knowledge and communicate it. When it comes to communication, especially personal communication, I think a useful soft skill is being able to perceive how your audience perceives you, in real time. This can be really important in technical communication where a good scientist or engineer will know where to slow down, retrace steps, provide extra background information, etc. Finally, I think it is important to be optimistic. It sounds silly, but I can't imagine being an engineer if I was an out-and-out pessimist. I often tell my students that "9 out of 10  good ideas will fail." Of course someone may then take issue with my definition of "good," but the point is that science and engineering are challenging, and it can be tough to bring good ideas (well grounded in physical law, building off proven concepts, addressing important questions, etc.) to fruition. In such a circumstance, the last thing we can afford is to be pessimistic! 
What was it like attending University in the United States after growing up in Trinidad and Tobago?
Apart from differences in weather, it was fairly straightforward. Culture is one of this country's biggest exports, one might say. As a young man coming to the U.S., I was familiar with a reasonable amount of American culture. I watched plenty of Sesame Street as a kid, and used to listen to Casey Kasem's Top 10 countdown on the weekends! Academically I had to get accustomed to the U.S. style of education and communication. In Trinidad and Tobago, our secondary school education is quite intense and, I think, rigorous. It provides good preparation in terms of mastering "book knowledge." But here in the U.S., my sense was that beyond book knowledge, the ability to think creatively and independently were more highly valued than it was during my schooling in Trinidad. It could just be my perception, and I am comparing apples to oranges here (high school/secondary school vs. university), but that's what I came away thinking.
What are some interdisciplinary research areas that interest you?
Interdisciplinary research has become such a focus nowadays that I wonder if any of us is doing purely disciplinary research anymore! I am only half joking. I think for a great many of us in science and engineering at Penn, it is simply second nature to collaborate with folks working in different disciplines on topics that don't fall easily into strict or conventional disciplinary narratives. I'm excited about the work that we've been pursuing on the use of self-assembled soft materials as membranes. We have traditionally focused on what I would characterize as fairly fundamental studies of these materials, but more recently, we've been collaborating with colleagues to look at a variety of applications, including water purification, and for charge transport in electrochemical devices. In my lab we're interested in the classic problem of engineering properties by controlling the structure of materials. We've enjoyed collaborating with colleagues from ESE, MSE, Physics, Chemistry and other departments in the context of the LRSM/MRSEC to devise new ways to control structure in composite, multi-component materials, and explore the emergence of properties that arise as a result. 
What are some of your goals as chair of CBE?
As chair my primary objectives are to ensure the excellence of our academic programs (undergraduate and graduate), and to make sure CBE faculty have what they need to maintain and grow the excellence of their research programs. There are numerous goals associated with achieving those objectives, and I share many of those goals with my predecessor, John Vohs. Challenges associated with energy, climate change, food, and water scarcity are existential ones for humanity, and our engineers have hugely important roles to play here. In that regard, I am keen to see the department strengthen its teaching and research in the area of Energy and Sustainability. I'd like to see our CBE undergraduate students enjoying engineering more while they are at Penn! I think across the board they value their CBE degrees enormously, particularly once they are out in the world beyond Penn, but it is difficult for them sometimes to gain that perspective while at Penn. Part of the reason is that CBE has an incredibly expansive curriculum. Our students cover everything from quantum mechanics to techno-economics, from the most microscopic interpretations of physico-chemical phenomena, to looking at amortization of capital assets and economic viability of chemical plants. They design molecules and they design machines! It can be hard to see how it all fits together. I'd like to help them see the bigger picture more, perhaps through experiences with more hands-on aspects of engineering design. 
Chinedum Osuji is the Eduardo D. Glandt Presidential Professor and chair in Chemical and Biomolecular Engineering. You can follow him on Twitter at @OsujiChinedum.