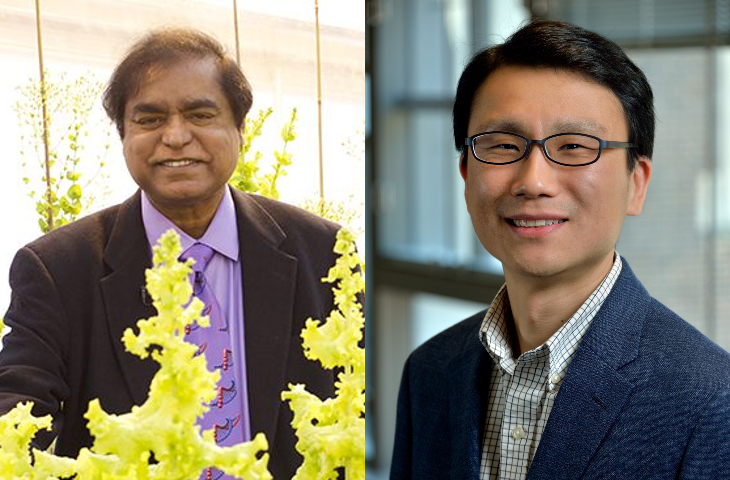 Penn Dental Medicine and Penn Engineering, which teamed earlier this year to launch the Center for Innovation and Precision Dentistry (CiPD), recently awarded the Center's first IDEA (Innovation in Dental Medicine and Engineering to Advance Oral Health) Prize. Dr. Henry Daniell, W.B. Miller Professor and Vice Chair in the Department of Basic & Translational Sciences at Penn Dental Medicine, and his collaborator, Dr. Daeyeon Lee, Professor of Chemical and Biomolecular Engineering at Penn Engineering, are the inaugural recipients, awarded the Prize for a project titled "Engineered Chewing Gum for Debulking Biofilm and Oral SARS-CoV-2."
"The IDEA Prize was created to support Penn Dental and Penn Engineering collaboration, and this project exemplifies the transformative potential of this interface to develop new solutions to treat oral diseases," says Dr. Michel Koo, Professor in the Department of Orthodontics and Divisions of Pediatric Dentistry and Community Oral Health at Penn Dental Medicine and Co-Director of the CiPD.
"The prize is an exciting opportunity to unite Drs. Lee and Daniell and their vision to bring together state-of-the-art functional materials and drug-delivery platforms," adds Dr. Kathleen Stebe, CiPD Co-Director and Goodwin Professor of Engineering and Applied Science at Penn Engineering.
Open to faculty from Penn Dental Medicine and Penn Engineering, the IDEA Prize, to be awarded annually, supports collaborative teams investigating novel ideas using engineering approaches to kickstart competitive proposals for federal funding and/or private sector/industry for commercialization. Awardees are selected based on originality and novelty; the impact of the proposed innovation of oral/craniofacial health; and the team composition with complementary expertise. Indeed, the project of Drs. Daniell and Lee reflects all three.
The collaborative proposal combines Dr. Daniell's novel plant-based drug development/delivery platform with Dr. Lee's novel polymeric structures to create an affordable, long-lasting way to reduce dental biofilms (plaque) and oral SARS-CoV-2 transmission using a uniquely consumer-friendly delivery system — chewing gum.
"Oral diseases afflict 3.5 billion people worldwide, and many of these conditions are caused by microbes that accumulate on teeth, forming difficult to treat biofilms," says Dr. Daniell. "In addition, saliva is a source of pathogenic microbes and aerosolized particles transmit disease, including COVID-19, so there is an urgent need to develop new methods to debulk pathogens in the saliva and decrease their aerosol transmission."
Continue reading at Penn Dental Medicine News.