Student Spotlight with Connor Sendel
The senior looks back on his time on campus, discussing what it's like to pursue a dual degree, how a startup grew out of his team's senior design project, and his plans after graduation.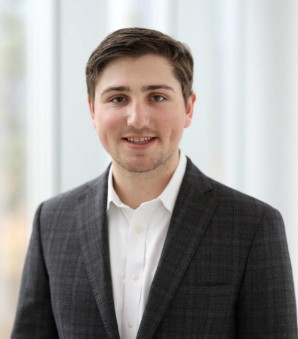 Prior to graduating from the Jerome Fisher Program in Management & Technology in May, Connor Sendel spoke to Penn Today's Lauren Hertzler about his time at Penn Engineering and Wharton, including his involvement in Penn Electric Racing, Weiss Tech House, and start-up company Aerate, which began as a senior design project.
FOUR YEARS, TWO DEGREES: When it comes to M&T, it is definitely hard work, but always worth it. "There are so many applications for what you are doing," Sendel says. "I've seen it at Penn and in my internships, that having both of the sides of the coin is definitely a unique skillset. Normally, a lot of the engineers struggle with the business side, and having the technical acumen when you're on the business side. There's a ton of applicability, which is really good."
FUTURE OF COOLING: For his mechanical engineering senior design project, Sendel and his five teammates — Yann Pfitzer, Sam Weintraub, Jake Fine, Spencer Collins, and Ashwin Kishen — came up with an idea for a new, energy-efficient air conditioner. "When you look at the world today, one of the biggest problems facing us is how to cool living spaces," he says. "Around the world by 2100, because of climate change, there will be over 7 billion people who are exposed to dangerous heat conditions at some point in the year. All those people will need to be cooled off, and air conditioner technology right now hasn't kept up with the need."
Read more at Penn Today.