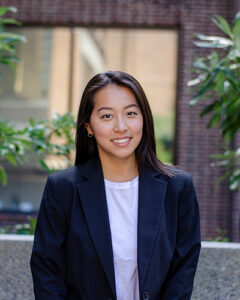 Sharon Kuo, a graduating senior in Mechanical Engineering and Applied Mechanics (MEAM), is the inaugural recipient of the Madison "Maddie" Magee Award for Undergraduate Excellence.
Kuo, who is also minoring in Mathematics, comes to Penn from Taipei, Taiwan. Her interests within her major include mechanical design and product design, and she is passionate about space exploration and advancing human spaceflight.
After a semester of virtual learning during COVID, Kuo took a year-long leave of absence to pursue industry experience in the medical device and aerospace industries, with a focus on mechanical design. Through internships with NASA and SpaceX, she contributed to numerous spaceflight missions that sent astronauts and cargo to the International Space Station, and designed and developed augmented reality technologies for the next generation of spacesuits in the Artemis moon exploration program.
"Sharon's intellectual energy and enthusiasm were particularly evident in MEAM 543, a course on the performance, stability and control of UAVs," recalls Bruce Kothmann, Senior Lecturer in MEAM. "She had completed an internship at SpaceX, and her keen interest in flight vehicle design and analysis was a big motivation in the course. She also shared some insights from her experience learning to fly a Cessna 172, and her hope to obtain a private pilot's license after graduation. Sharon clearly has a great spirit of adventure!"
Throughout her time at Penn, Kuo has also been involved in a variety of campus organizations such as the Theta Tau Engineering Fraternity, serving as Design Lead for PennLabs, and VP of Innovation at MUSE, a student-run marketing organization on campus.
"It's such an honor to be recognized in this way," says Kuo. "Maddie was able to hugely impact and inspire those around her with her energy and passion. I really hope that I can do the same."
The Madison "Maddie" Magee Award for Undergraduate Excellence was established to honor and celebrate the memory of Madison "Maddie" Magee, a member of the Penn Engineering Class of 2021, who passed away last year while hiking the Pacific Crest Trail.
"Maddie combined her love of mechanical engineering and bioengineering to engage selfless projects and endeavors of substance and impact," says Graham Wabiszewski, Senior Lecturer in MEAM. "Sharon is guided by these same principles. She has frequently combined her formal education in engineering and programming and her love of art and design to improve others' lives."
This award will continue to be presented each year to a Penn Engineering senior who best exemplifies the energy, enthusiasm and excellence that was Maddie.