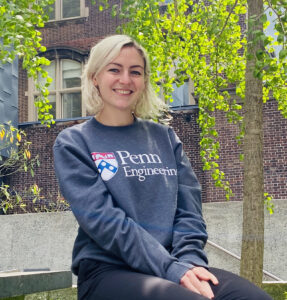 Penn Engineering is proud to announce the establishment of the Madison "Maddie" Magee Award for Undergraduate Excellence, named in honor of the memory of Madison "Maddie" N. Magee, who graduated with both a bachelor's degree in Mechanical Engineering and Applied Mechanics (MEAM) and a master's degree in Bioengineering (BE) in 2021. Following her time at Penn, Maddie joined the Integrative Baseball Performance department of the Philadelphia Phillies, where she collaborated with a group in developing the next generation of baseball players by analyzing biomechanics data.
To establish this award, 130 donors, including the Philadelphia Phillies, came together in 2022 to raise over $50,000, meaning that undergraduate students will be able to receive this award in perpetuity. Recipients will be Penn Engineering seniors who "exemplify the energy, enthusiasm, and excellence that was Maddie."
"Maddie was full of life and promise and brought unmatched passion and spirit to everything she did," says Kevin T. Turner, Professor and Chair of MEAM. "It was impossible to not see the impact that she was having on our Department and the School." Magee excelled as a student at Penn, working as a Teaching Assistant at both Penn and Drexel and providing countless hours of tutoring to fellow students.
It is with deep gratitude for Maddie's profound and lasting impact on many students, faculty and staff that this award is established.
Maddie passed away while hiking the Pacific Crest Trail on May 28, 2022.