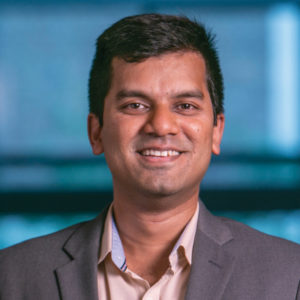 Sharath Chandra Guntuku, Research Assistant Professor in the Department of Computer and Information Science, will receive funding from Penn Global for his project titled "Computational Social Listening of Vaccine Attitudes in India to Increase Provider Efficacy."
As a part of its Research and Engagement Grant Program, Penn Global will award Guntuku, along with 20 other faculty members, a total of $1.2 million in funding. The program prioritizes projects that bring together leading scholars and practitioners across the University community and beyond to develop new insight on significant global issues in key countries and regions around the world, a core pillar of Penn's global strategic framework.
Recent growth in social media use and related advances in analytic techniques provide a unique opportunity to track public views, knowledge, and attitudes seamlessly, and to translate insights from novel analytic pathways into "social listening" output. Guntuku, whose research focuses on building predictive models for and uncovering insight into health outcomes and psychological states of individuals and communities, will create a computational engine that will mine large-scale social media data from multiple platforms, and utilize state-of-the-art machine learning and natural language processing algorithms to inform precision public health communication. 
"These awards represent Penn's commitment to global engagement as a critical part of the University's research, teaching, and service missions," says Penn Global's Director of Strategic Initiatives Scott Moore, who oversees the grant program. 
Penn Global relaunched its competitive research and engagement grant program in Fall 2021, after a two-year hiatus due to the COVID-19 pandemic. Penn Global welcomed proposals from Penn faculty across all disciplines and fields of study, with an optional special focus on climate change and climate justice in a global context. The grant program consists of the Global Engagement Fund, China and India Research and Engagement Funds, and the new Holman Africa Research and Engagement Fund. 
Read more about the other Penn Global Research and Grant Program award recipients at Penn Global.