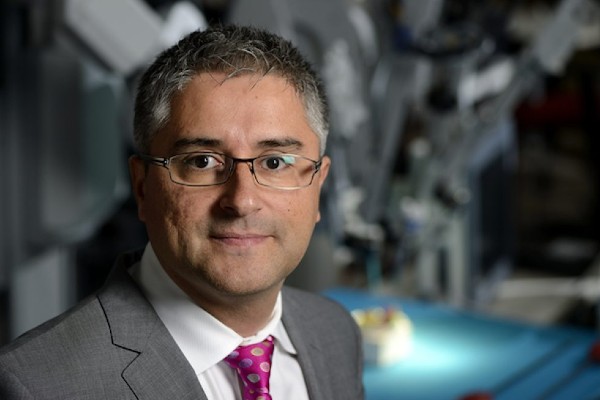 President Liz Magill and Interim Provost Beth Winkelstein announce the appointment of René Vidal as a Penn Integrates Knowledge University Professor, effective January 1, 2023.
Vidal, a global pioneer of data science, is the Rachleff University Professor, with joint appointments in the Department of Radiology in the Perelman School of Medicine and the Department of Electrical and Systems Engineering in the School of Engineering and Applied Science.
"René Vidal is an undisputed world leader in deploying data science, engineering, and medical innovation to advance the frontiers of machine learning and healthcare," said President Magill. "Penn is an epicenter for such ingenuity, exemplified by our Penn Integrates Knowledge program, and Professor Vidal's pathbreaking scholarship makes him a perfect fit. We're excited to have him here."
Before Penn, Vidal was Herschel Seder Professor of Biomedical Engineering at the Johns Hopkins University, where he had taught since 2004. Most recently, his work has focused on the development of theory and algorithms to analyze complex datasets (such as biomedical data, images, and videos), as well as the mathematical foundations of deep learning and its applications to such new domains as computer vision and biomedical data science. His lab has innovated new technologies across a wide range of areas, including face and object recognition, motion segmentation, signal processing, gesture and skill recognition in robotic surgery, the assessment of surgical skill in surgical videos, and the detection, classification, and tracking of blood cells in holographic images.
Vidal received the 2021 McCluskey Award of the Institute of Electrical and Electronics Engineers Computer Society for outstanding and innovative contributions over the past fifteen years, especially for his work in advancing computer vision and pattern recognition. He has received a National Science Foundation CAREER Award, a Sloan Research Fellowship, and the Aggarwal Prize of the International Association of Pattern Recognition, among numerous other awards. He is the Inaugural Director of the Mathematical Institute for Data Science, which brings together mathematicians, statisticians, computer scientists, and engineers to develop principles for the analysis and interpretation of massive amounts of complex data, across such interdisciplinary fields as computer vision, language/speech processing, robotics, astronomy, medicine, and health. He earned a Ph.D. and M.S. in Electrical Engineering and Computer Science from the University of California at Berkeley, an MS in Engineering from the Catholic University of Chile, and a B.S. summa cum laude in Industrial Engineering from the Catholic University of Chile.
"René Vidal's pioneering work exemplifies the core commitments of our work at Penn," said Interim Provost Winkelstein. "Our innovative faculty and students are forging the creative new ideas and ambitious, multi-disciplinary solutions that shape the future. Professor Vidal's research – bringing together methods from medicine, engineering, computer science, and data science – demonstrates the power of solutions that cross traditional disciplinary and intellectual boundaries to tangibly change people's lives around the world."
The Penn Integrates Knowledge program is a University-wide initiative to recruit exceptional faculty members whose research and teaching exemplify the integration of knowledge across disciplines and who are appointed in at least two Schools at Penn.
The Rachleff University Professorship is a gift of Debra and Andrew S. Rachleff. Andrew Rachleff is a 1980 graduate of Penn and serves as a member of the Board of Trustees and the School of Engineering and Applied Science Board of Advisors. He is co-founder and Executive Chair of Wealthfront Corporation, an investment services firm in Palo Alto, CA.