Ravi Radhakrishnan Named Director of the Penn Institute for Computational Science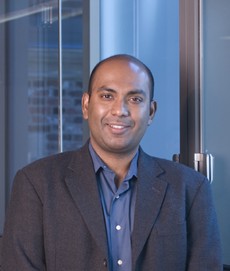 Ravi Radhakrishnan, professor in the departments of Bioengineering and Chemical and Biomolecular Engineering, has been named the new Director of the Penn Institute for Computational Science (PICS).
PICS is a cross-disciplinary institute for the advancement, integration, and support of Penn research via the tools and techniques of high-performance computing. It promotes research through a regular seminar series, an annual conference, by hosting joint research projects and through researcher and student training. PICS also enables computational science research by providing an ongoing series of short technical "how to" workshops or bootcamps for Penn researchers and graduate students.
Radhakrishnan's research interests lie at the interface of chemical physics and molecular biology. He graduated from the Indian Institute of Technology in 1995 and earned his PhD from Cornell University in 2001. He is a member of the Penn Center for Molecular Discovery and the Center for Engineering Cells and Regeneration.