Rajeev Misra: Invest. Accelerate. Disrupt. Repeat.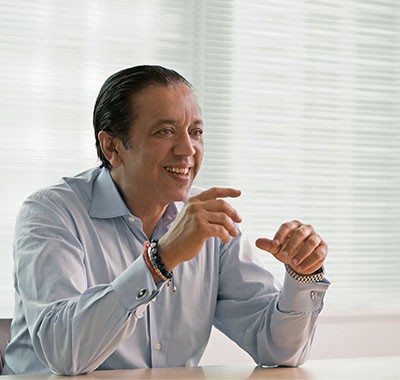 Few people possess Rajeev Misra's power to profitably disrupt the global economy. As leader of the new $100 billion SoftBank Vision Fund, Misra is rapidly making unparalleled investments in technology and telecommunications companies, accelerating breakthroughs in artificial intelligence, robotics, miniaturization, machine learning and the connectivity of everyday objects.
"We aspire, along with Google, Apple, Facebook, Amazon and Alibaba, to push the boundaries of the technological revolution," says Misra (ME'85, GEN'86). He's tasked with fully investing the fund, launched in 2016, within five years. "Most large venture capital firms, such as Sequoia Capital, take a year or two to invest a billion dollars. By comparison, our fund's average investment has to be a couple of billion dollars each year. There is no one like us who can write that kind of investment today."
"As the world becomes more highly connected with faster processing power, greater telecommunications capacity and artificial intelligence, a lot of white collar jobs that require human intelligence will soon be done by computers," says Misra. "This is all happening over the next 5 to 10 years and will be disruptive for society. By comparison, the first Industrial Revolution, which began in the 1760s, lasted 60 to 80 years. People had time to adapt." He expects the current era of career displacement to begin with driverless, autonomous cars and to very soon affect jobs in fields like medicine, law and accounting.
Cautionary Perspective
A member of Penn Engineering's Board of Advisors, Misra offers a cautionary perspective on how these changes may likewise transform engineering education and careers. He sees strategic opportunities for Penn Engineering to refine its curriculum to strengthen core skills for long-term career agility, serve alumni needs for continuing education and address a likely social backlash against technology.
"You can't stop innovation," he cautions. "You have to continually educate yourself, otherwise you will become redundant and obsolete. Penn Engineering gave me a great running start. It's an amazing engineering school where you can round out your academic experience at Wharton and in the liberal arts; that's important because the world of tomorrow is about connecting the dots."
Misra reads voraciously as he travels the globe from his home in London to evaluate investments, meet with investors and recruit employees. He plans to double the fund's 100-person staff within 18 months. Many will be engineers. "I'm biased. This is a technology and telecommunications fund so by definition you need to know the domain," says Misra. "When I hire, what I really look for is the hunger: where they come from, where they are today and how passionate they are about where they want to go."
His own trajectory began when he left his New Delhi home for undergraduate and graduate engineering studies at Penn, followed by an MBA at MIT's Sloan School of Management. He then held successive leadership positions at Merrill Lynch, Deutsche Bank and UBS, and joined the publiclyheld SoftBank Corp of Japan in 2014, where he reports to Masayoshi Son, founder and CEO.
Today, Misra spends his precious free time with his wife, Shalini, an architect, interior designer and real estate developer, who also grew up in New Delhi. "I don't have many hobbies," he quips, noting they enjoy time with friends and going to movies.
Leveraging The Revolution
It takes sophisticated research, analysis, foresight and more than a little courage to challenge market assumptions. These days Misra carefully scrutinizes emerging technologies and changing market dynamics to find ways to successfully achieve the Vision Fund's target of an annualized internal rate of return of 25 to 30 percent. "We're investing in technology and telecommunications to leverage the next 10 years of the technological revolution. We're also looking at ways SoftBank can help these companies grow through our global reach as we share and leverage technology, expertise and presence in global markets," he says.
As for the fund's possible global economic impact, Misra notes, "Our first responsibility is to provide returns for our investors. The rest will fall into place."