Colin Luzzi: Serving Communities While Training to Serve the Country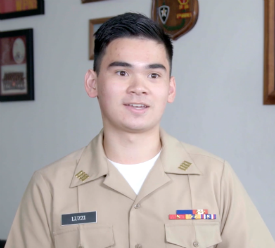 The Philadelphia Naval Reserve Officer Training Corps, or NROTC, is home to students of all stripes, from different walks of life, different schools and with different academic interests. Its members are bound together by a sense of duty and service, to the nation, the local community and to each other.
Colin Luzzi, a senior in the Department of Electrical and Systems Engineering, is one of them. In advance of Veterans Day, Penn News' Jill DiSanto profiled Penn's NROTC Battalion, where Luzzi is third-in-command.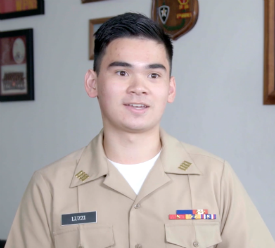 As a part of their community service activities, the entire NROTC battalion participates in the annual 9/11 Hero Runs in Doylestown, Pa. and Philadelphia that are organized by the Travis Manion Foundation, an organization that honors Marine 1st Lt. Travis Manion, who died while trying to save his wounded teammates during a sniper attack in 2007. Before leaving for his second tour in Iraq, Manion asked "If not me, then who?," a reminder for each officer-in-training to maintain integrity, live with character, and to put others' interests ahead of their own.
One student who understands that sentiment is Midshipman First Class Colin Luzzi, a senior systems science and engineering major in the School of Engineering and Applied Science, who will earn his commission as an officer in the U.S. Navy once he graduates in May 2018.
Luzzi, who hails from Weston, Mass., serves as the Battalion Operations Officer. That means he's the third-in-command of the battalion.
"Community service is stressed within the NROTC unit because it cultivates that sense of service and that sense of being a part of something that's more important than one's own success," Luzzi explains. "If you realize the value of doing something before you even do it, that's powerful. It's for a greater good."
Read more at Penn News.