Q&A with Penn Engineering Advisor Alex Krueger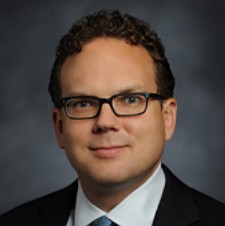 Alex Krueger (ENG'96, W'96) currently serves as President and Chief Executive Officer at First Reserve, a global energy-focused private equity investment firm headquartered in Stamford, Connecticut. An alumnus of the Jerome Fisher Program in Management & Technology (M&T), Krueger studied chemical engineering and finance/statistics at Penn. Krueger currently serves on Penn Engineering's Board of Advisors and is chair of The Power of Penn Engineering: Inventing the Future campaign. For the past two years, Krueger has sponsored the Engineering Annual Giving February Challenge — a giving challenge that gives Penn Engineering donors the opportunity to secure an additional $25,000 for the School.
What inspired you to join the Penn Engineering Board of Advisors?
As an M&T student, I was exposed to the curriculum at both Penn Engineering and the Wharton School, but I always felt most connected to my engineering education. My Penn Engineering professors taught me how to think, problem solve and resolve complex situations. I reconnected with the Penn Engineering community when my advisor, Eduardo Glandt, became dean and highlighted many of the School's areas of focus. After learning about the exciting work happening here, I was excited to reengage with the School as a member of the Advisors.
What attracted you to sponsor the Engineering Annual Giving February Challenge?
As I have become more involved as an alumnus, I have learned that there are many ways for alumni to connect with the University in a meaningful way. However, sometimes the first step — reestablishing the connection between alumni and the school — can be difficult. A Giving Challenge is a good way to inspire alumni to reconnect. Our hope is that the Engineering Annual Giving February Challenge is the first step in a long set of new connections our community can make with Penn and that the University can enrich the alumni experience and vice versa.
What excites you most about Penn Engineering right now?
The School is excelling across all departments, so it is difficult to pick one or two specific areas that are most exciting. The differentiating factor between Penn Engineering and other schools is our focus on collaborating with other parts of the University. Whether we have a joint initiative with the Perelman School of Medicine, in the entrepreneurship space with the Wharton School or in data science and nanotechnology with the College, Penn Engineering is aiming to solve some of the largest challenges facing modern science. That is incredibly exciting and something that makes the School a leader in its field.
What would you tell someone who is thinking about getting more involved with Penn Engineering?
Just get started — speak to faculty or engaged alumni about opportunities to get involved. We need our community's enthusiasm and engagement to fuel our students and faculty.
Take part in Engineering's Annual Giving February challenge by February 29, 2020! Join the challenge here.