Project Kirigami ENV Wins 2019 Senior Design Competition
The semi-autonomous system for reducing buildings' energy costs is inspired by a Japanese art form.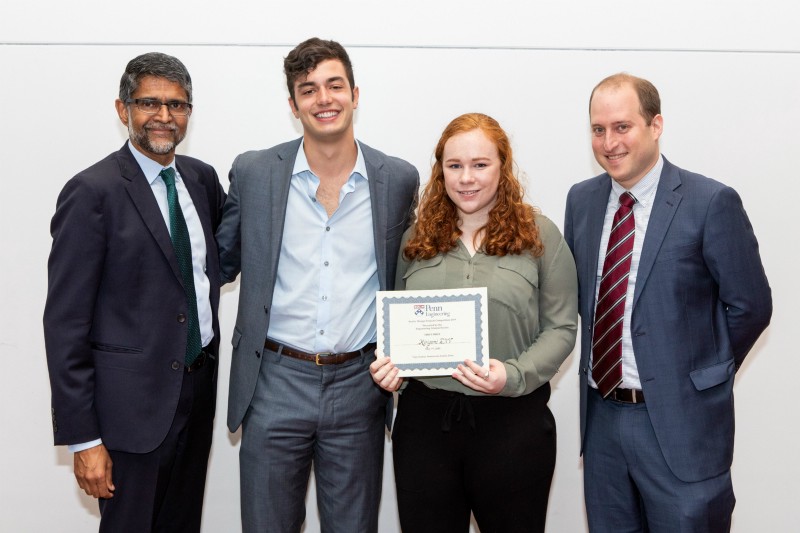 By Lauren Salig
During their senior year, Penn Engineering students from all six of the school's departments dedicate themselves to developing the pinnacle of their engineering education: their senior design project.
Through two mandatory classes taken in the fall and spring of their senior year, student teams work to pinpoint a real-world problem and spend the year trying to solve it. The process of identifying an issue, brainstorming solutions and engineering new technology requires students to consult with faculty advisors and other experts in the field to refine their project.
In the spring, each department holds their own competition to recognize the students' achievements and to determine which teams from their department will move forward to the school-wide finals. On Friday, May 3, the final contenders from each department gathered in Wu and Chen Auditorium in Levine Hall to pitch their projects to a panel of alumni judges who evaluated their engineering designs and their ability to communicate their projects' capacity to make an impact.
Below are the top-placing teams as well as a list of all teams that participated in the final senior design competition.
1st Place
Project Kirigami ENV (MSE)
Grey DeSimone, Emily Spencer
Advised by Shu Yang, Professor, MSE
Kirigami ENV is a specially engineered building envelope, which is a material applied to a building's exterior to bolster insulation. It's inspired by the Japanese art form kirigami, which is based on skillfully folding and cutting paper. The Kirigami Envelope expands and contracts semi-autonomously to aid with insulation, light management and water collection, promising significant reductions in the energy costs of buildings equipped with the technology.
2nd Place
Project SharpShooter (MEAM)
Bennet Caraher, Paul Flores, Karina Gunadi, Miltos Kitsios, Matt Oslin, Jake Welde
Advised by Bruce Kothmann, Senior Lecturer, MEAM
SharpShooter is a compact, portable camera accessory that simplifies the demanding process of taking long-exposure photographs, which typically require the use of bulky equipment like a tripod. While tripods can take a few minutes to set up, eating up valuable shooting time, SharpShooter reaches similar levels of camera stability almost instantaneously.
3rd Place
Project Bubble Stix (MSE)
Narelli de Paiva Narciso, Christina Nordrum, Olivia Ruiz
Advised by Eric Detsi, Stephenson Term Assistant Professor, MSE
Bubble Stix is a system designed to safely produce hydrogen that could be used to fuel zero-emission, hydrogen-powered vehicles. Bubble Stix's design circumvents the usual difficulties of hydrogen fuel — namely, that hydrogen is often dangerous to transport — by using water and nanoporous aluminum to produce hydrogen in an airtight environment that maintains hydrogen pressure and creates more sustainable byproducts than current hydrogen production methods.
The other Senior Design Competition finalists were:
Bioengineering (BE)
BreatheSmart
Caroline Atkinson, Sarah Cai, Rebecca Kellner, Harrison Troché
Advised by Michael Rizk, Senior Lecturer, BE
RIPT
Toren Arginteanu, Justin Mills, Anna Mujica, Kayla Prezelski
Advised by Jose Pascual and Shariq Raza, Perelman School of Medicine
Proscopy
Abigail Anmuth, John Forde, Sarah Raizen, Rohit Shinde
Advised by Michael Rizk, Senior Lecturer, BE
Chemical and Biomolecular Engineering (CBE)
Ethylend
Kerri Heuser, Vinson Liao, Neha Narain
Advised by Daeyeon Lee, Professor, CBE
Computer and Information Science (CIS)
Scene++
Henry Zhu, Liam Dugan, Ziad Ben Hadj-Aloune, Zhengyi Lou
Advised by Stephen Lane, Professor of Practice, CIS
Peer-3-Peer
Simran Arora, Jenna Barton, Ben Judd, Ramya Rao, David Wang
Advised by Vincent Liu, Assistant Professor, CIS
Fair Machine Learning
Adel Boyarsky, Willam Brown, Aaron Hallac, Arnab Sarker
Advised by Micheal Kearns, National Center Professor of Management & Technology, CIS
Electrical and Systems Engineering (ESE)
Heartware
Jonathan Chen, Jason Schwartz, Jared Winograd, Matthew Wolfman
Advised by James Weimer, Research Assistant Professor, CIS
IV Sight
Gillian Able, Madeline Paliganoff, Emma Dong, Eric Dong, Bridget Temple
Advised by James Won, Children's Hospital of Philadelphia
Fundright
Tawfik Raouf, Cristina Amusategui, Braden Fineberg, Alec Gelfenbein
Advised by Pete Fader, The Wharton School.
Materials Science and Engineering (MSE)
Sole3D
Sona Dadhania, William Drobnick, Kiera Thompson Towell
Advised by Jordan Raney, Assistant Professor, MEAM
Mechanical Engineering and Applied Mechanics (MEAM)
TerraNova (Honorable Mention)
Jonah Arnheim, Claire Brundage, Allie Grey, Dylan Hawkes, Gregory Robinov, Raphael Van Hoffelen
Advised by Mark Yim, Professor, MEAM
Aerate (Honorable Mention)
Yann Pfitzer, Connor Sendel, Sam Weintraub, Ashwin Kishen, Spencer Collins, Jake Fine
Advised by Paulo Arratia, Professor, MEAM