President's Engagement and Innovation Prize winners honored at awards luncheon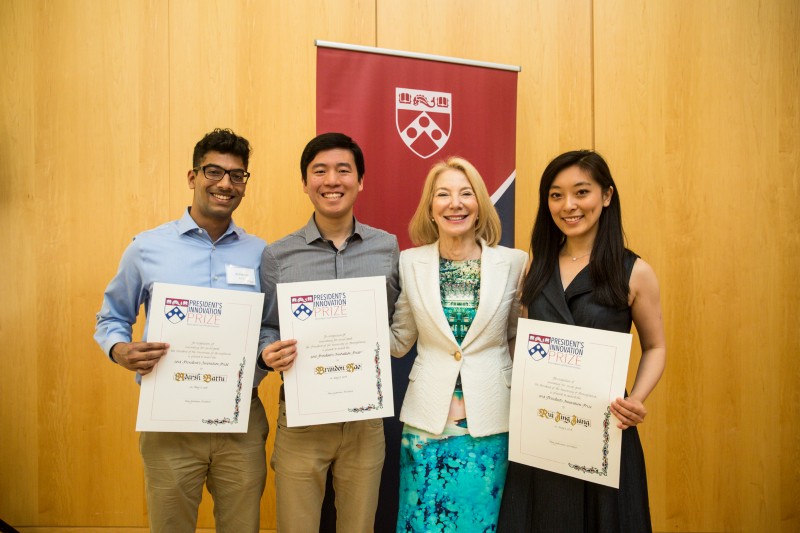 A team of students who are turning a piece of nanotechnology developed in a Penn Engineering lab into a medical implant for treating glaucoma have won the President's Innovation Prize. They, along with the six students who have won the President's Engagement Prize, were honored at the annual luncheon last week. Penn Today's Jacquie Posey was there:
Brandon Kao, a senior in the School of Engineering and Applied Science, and Wharton seniors Rui-Jing Jiang and Adarsh Battu will use their PIP to support Avisi Technologies, a healthcare startup they launched last year to develop VisiPlate. The novel nanoscale ocular implant will help treat glaucoma, the world's second leading cause of blindness.
"The time is right for a paradigm shift in treatment and prevention of glaucoma," said Gutmann.
By happenstance, the three team members were all together in a Skirkanish Hall study lounge when the president called with the good news that they'd earned the PIP. It was "VisiPlate Friday," the day each week that they get together and work on the project they started last year. In 2017, the team received funding for pre-clinical testing and prototyping of VisiPlate, winning the Y-Prize Competition for the best commercial application for an emerging technology.
"Dr. Gutmann came on the line and the first thing she said was 'I want to say Hurrah, Hurrah, Hurrah,' recalled Jiang. "And I was very confused, but it was great. I wasn't registering anything. I was so excited."
Battu had pulled his cell phone out to videotape the team getting the call. "After she hung up," Battu chimed in, "we started jumping around and you can see it on the phone, the phone goes everywhere and we're all jumping and hugging."
Continue reading at Penn Today.