Penn Summer Program in STEM Teaches Middle Schoolers to Overcome Communication Barriers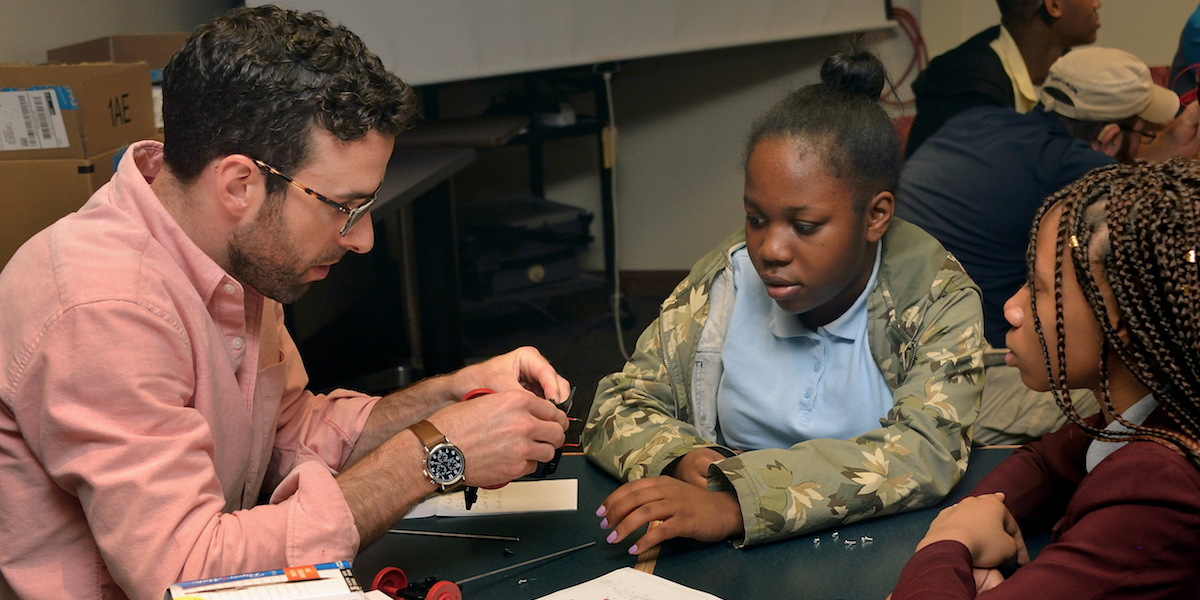 Mark Licurse didn't know what to expect when he decided to group together middle schoolers from two very different schools for a week-long STEM Summer Science Camp held by the Laboratory for Research on the Structure of Matter at the University of Pennsylvania.
The group included 12 students from Girard College, a boarding school for academically capable students from families with limited financial resources, and 13 students from the Pennsylvania School for the Deaf.
But over the course of the program, Licurse says, he was pleasantly surprised by how students from both schools mingled quickly and, despite the language barrier, figured out ways to communicate.
"It turned out the Girard students were so excited to meet the PSD students," says Licurse, "that they took it upon themselves to learn some sign language the night before. Before I knew it, they were introducing themselves without the ice breakers we had planned. Seeing them overcome a major communication barrier like it was merely a small hurdle surprised all of us."
This science camp is part of a series of summer programs for middle school, high school and undergraduate students, as well as for high school teachers, which are organized and run by the LRSM. The summer programs are tailored to teach participants at each level about the science and engineering of materials, and to expose participants to LRSM research activities.
The Middle School Summer Science Camp grew from the Girard Science Camp, which was created in 2011 by Andrew McGhie, then associate director of LRSM, and is now run by Licurse, LRSM director of education and outreach. The program exposes the middle schoolers to concepts in science, technology, engineering and math. Licurse sees it as an opportunity to get kids interested in STEM fields at a young age and to inspire them to go into these fields.
"Very few of these kids had ever been to Penn or even any nearby universities," says Licurse. "Having them come to campus and see our activities first-hand creates a seed of excitement towards these fields."
The program's success led Licurse to pursue expansion to a new group of students. The idea to work with deaf students was proposed by a new faculty member in the Materials Science and Engineering department, Eric Detsi. Following discussions with Jami Fisher, American Sign Language program coordinator and a professor of linguistics at Penn, Licurse initiated a pilot program combining the Girard students with eighth graders from PSD. They worked closely with Kyle Rosenberg, community development and outreach coordinator for the Deaf Hearing Communication Center, who provided interpreters to assist the students from PSD and extensive input on day-to-day activities to engage the two groups of students.
"The value of this program for deaf students was immense," says Rosenberg. "Watching them grow and learn from their hearing peers despite a language difference was a wonderful experience."
With aims to make these younger students, on the cusp of entering high school, feel excited and eager about science and to consider STEM careers in the future, this summer's week-long camp exposed students to a variety of STEM fields ranging from optics to robotics.
​​​​​​​"The program serves to encourage interest in STEM studies and careers for the students," Licurse says, "but in addition, their exposure to college undergraduates, graduate students, professors and a campus like Penn offers insight about what attending college is like."
Continue Reading at Penn News.