Penn Researchers Propose Bone Defect Treatment Based on Embryonic Development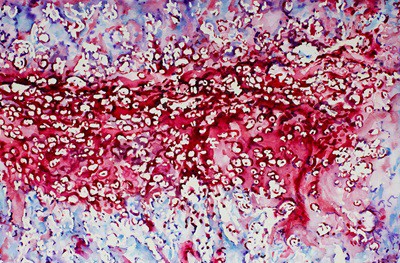 Joel Boerckel, Assistant Professor of Orthopaedic Surgery at the Perelman School of Medicine and of Bioengineering at Penn Engineering, researches how physical stimuli affect cellular development and regeneration. Boerckel has previously studied the biomechanics of cell movement and, most recently, has co-authored a paper outlining a new technique for repairing bone defects.
The paper, which appeared in Science Translational Medicine, turns to embryonic bone development to find answers about how to heal large gaps in bones, usually caused by tumors or trauma, that have been notoriously difficult to treat. Boerckel and his colleagues discovered that they could improve bone regrowth prospects by mimicking two aspects of fetal bone development: stem cells and movement.
Boerckel says that treating bone gaps with stem cells and particular patterns of mechanical stimulation replicated the embryonic environment and showed promise for enhancing bone recovery:
"When bones are originally formed in the embryo, they're first generated from cartilage, like a template," said senior author Joel Boerckel, PhD, an assistant professor of Orthopaedic Surgery and Bioengineering at the University of Pennsylvania. "In order to regenerate bone within defects that otherwise won't heal in grown people, we are seeking to recreate the embryonic bone development process."
To do that, the researchers' process begins with the delivery of specially engineered stem cells (called a condensation of mesenchymal cells) to the rodents' bone defect, which sparks endochondral ossification, the specific term for embryonic bone development.
Continue reading at Penn Medicine News.