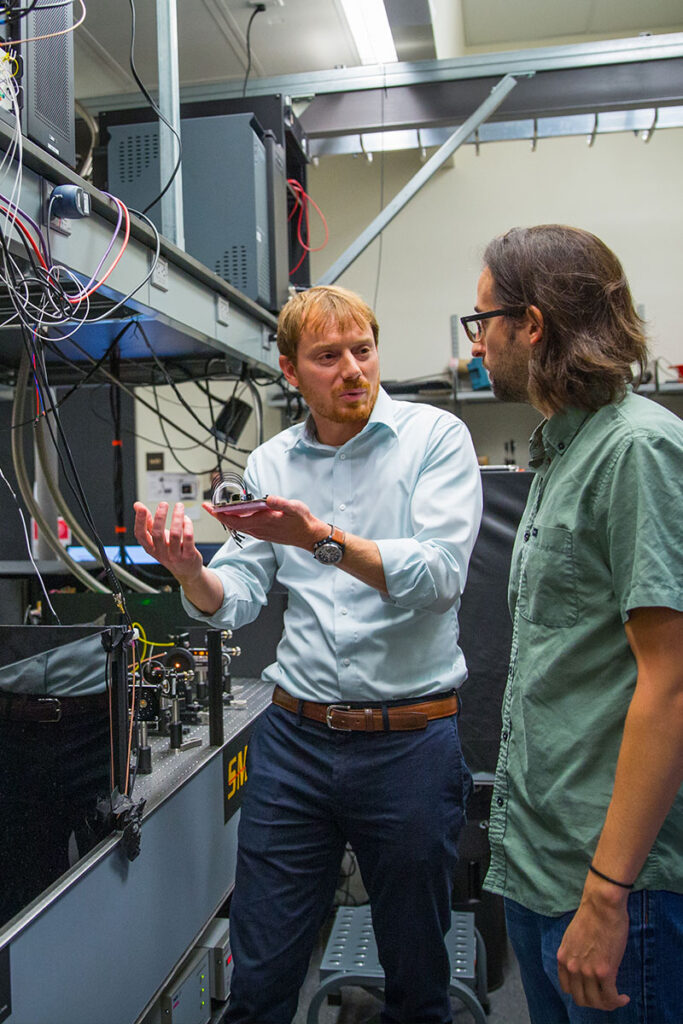 Through major investments by governments around the world, and with companies large and small seeking to realize practical quantum technologies, we are witnessing the dawn of the quantum information age. Today, Dawn Bonnell, Senior Vice Provost for Research at the University of Pennsylvania, announces with Vijay Kumar, Nemirovsky Family Dean of the School of Engineering and Applied Science, and Steven J. Fluharty, Dean of the School of Arts & Sciences and Thomas S. Gates, Jr. Professor of Psychology, Pharmacology, and Neuroscience,the formation of a new Center for Quantum Information, Engineering, Science and Technology (Penn QUIEST).
QUIEST is a transdisciplinary field that draws from physics, materials science and information science. "We are at an inflection point in science and technology akin to the digital revolution of the 1960s or nanotechnology revolution of the 1990s," said Bonnell. "As with these earlier transformations, we cannot foresee where the technology will go. But, Penn has a long and extensive history in leading the way in information science, and with QUIEST we are prepared to capitalize on the inevitable surprises and opportunities that will emerge."
The new center brings together around 30 faculty from the School of Engineering and Applied Science and the School of Arts & Sciences. Through a strategic hiring initiative in the School of Engineering and Applied Science, Penn will recruit a group of new faculty members who will further expand research and teaching capabilities in QUIEST, leveraging and amplifying existing strengths. "Quantum technology is not only poised to revolutionize Data Science," said Kumar, "it will also advance Penn Engineering's signature initiatives in Engineering Health and in Energy and Sustainability."
Penn QUIEST will facilitate interdepartmental and cross-school academic discourse and scholarship, support the initiation of new transdisciplinary research projects, and help to coordinate academic programs in QUIEST. "This Center will create a cohesive, collaborative community for students and researchers from across Penn to lead the world in advancing the boundaries of quantum science and technology towards meaningful, positive global impact," said Fluharty.
Penn QUIEST will be led by Director Lee C. Bassett, Associate Professor in Electrical and Systems Engineering, together with an Executive Committee of faculty from the School of Engineering and Applied Science and the School of Arts & Sciences. "This is an exciting moment," says Bassett. "As the only center of its kind in the Philadelphia area, Penn QUIEST will advance the near-term objectives of quantum information science, helping to develop quantum computers, quantum networks, and quantum sensors in our city. In the longer term, it will advance Penn's mission to pursue knowledge and design technologies to benefit society at large."