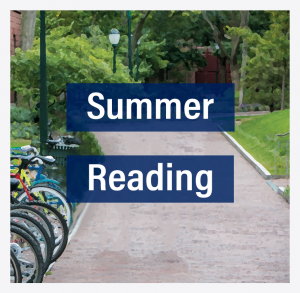 The summer of 2020 will go down in history as a time when a global pandemic, the Black Lives Matter movement and an economic crisis all intersected.
In difficult times, we often turn to our communities to seek comfort, grow in our understanding of the world around us and to figure out the best way forward.
Penn Engineering's "Summer Reading" project is our way of learning about what members of the School's community are doing to engage and challenge themselves both as academics and human beings.
And summer reading can be about more than just books. We want to know: How will you be developing yourself as an individual and as an engineer this summer? What types of conversations are you having (or would you like to have) with your friends and family members about race? Are you completing a remote internship in your field? Making time for self-care is important, too. What fantasy worlds are you adventuring to this summer, and what souvenirs are you bringing back with you?
We plan on sharing your stories from this summer on our social media platforms, so that our community members can listen to each other, learn from one another and grow together.
Click here to learn more and to share your story, and read entries from the series on Penn Engineering's Instagram page.