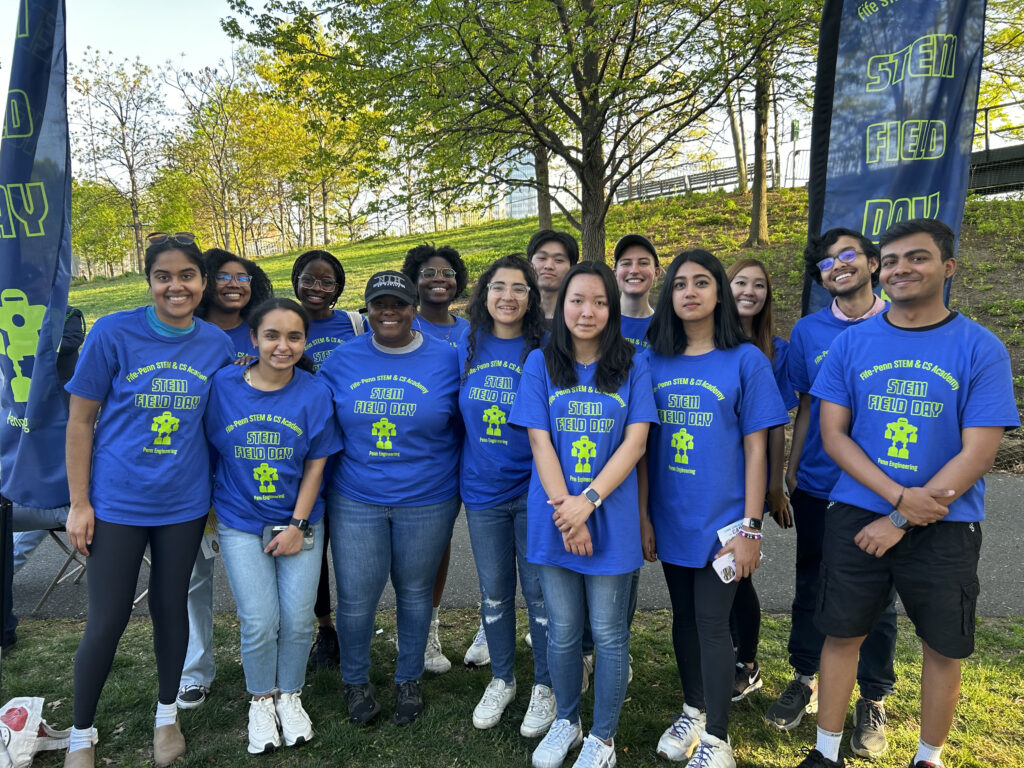 As part of the School's commitment to diversity, equity and inclusion in STEM, Penn Engineering's community outreach team hosted its inaugural STEM Field Day on Thursday, April 20. Held at Penn Park, the event served as a culminating activity and end-of-year celebration for students in Penn Engineering's Office of Diversity, Equity and Inclusion's Fife-Penn STEM & CS Academy and Heights Philadelphia Middle Grades Academy after-school programs.
STEM Field Day is an event that was created to strengthen Penn Engineering's Inveniam partnership with Heights Philadelphia (formally known as Steppingstone), established in 2020 as a STEM Equity and Innovation Lab to create pathways for Philadelphia students to pursue postsecondary studies and careers in STEM.
"Our community engagement and outreach programs aim to provide students from the Philadelphia School District with knowledge and experiences to prepare them for STEM careers and consider Penn a place to pursue their education," said Camillo Jose Taylor, Associate Dean of Diversity, Equity and Inclusion in Penn Engineering and Raymond S. Markowitz President's Distinguished Professor in Computer and Information Science. "The partnership that Penn Engineering and Heights Philadelphia has put together has helped deliver foundational enrichment activities, high-quality college preparatory coursework, and mentoring programs for Philadelphia neighborhood schools."
"The impact of COVID created obstacles for students in our programs to gather. Through the partnership with Fife Penn STEM & CS Academy, we were able to offer after-school coding clubs at Bethune, Duckrey, Dunbar and McMichael," said Teresa Tham of Heights Philadelphia. "Not only coding clubs, but we ended the year with an amazing STEM Field Day. The event was a well-blended mixture of fellowship and community. We were able to offer the students not only college exposure but STEM engagement as well. I am extremely grateful for the partnership between Penn Engineering and Heights."
STEM Field Day featured various activities and demonstrations by Penn Engineering  and community partners, including the Civil Air Patrol West Philadelphia Composite Squadron 1006, the Philadelphia Robotics Coalition, Naval Sea Systems Command Philadelphia, First in Math, IOT4AG, and Road2Research.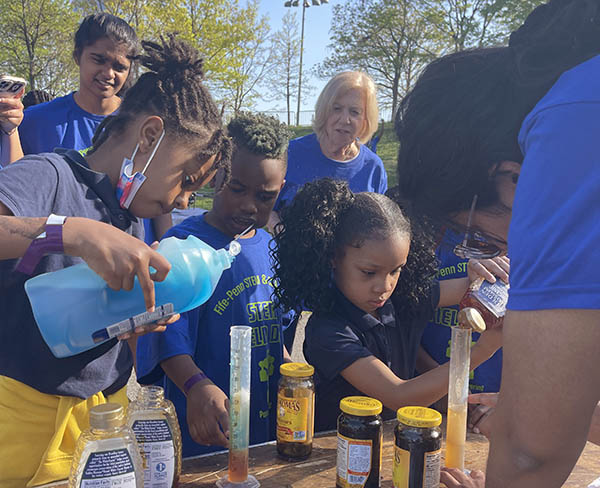 Penn Engineering students served as mentors and facilitated recreational activities for participating K-8 students. The event also provided a valuable opportunity for Philadelphia School District students to engage with industry professionals and gain insight into STEM careers while participating in outdoor games. "Overall, the day was really fun. I got to see other schools that were a part of Heights. My favorite activities were tug-of-war and the sponge relays. The environment was cool, and I loved that we had a pizza party outside," said Amyr, a sixth-grade student from Mary McCleod Bethune School.
"STEM Field Day was created to help break down traditional ideas and barriers associated with rigorous STEM subjects by combining team-based physical activities and interactive STEM workshops to promote relevant and engaging interdisciplinary learning," said Chanda Jefferson, Director of Community Engagement and Outreach at Penn Engineering. "We want students from the Philadelphia community to know that STEM connects with their lives and that there is a place for them in STEM."
Fife-Penn STEM and CS Academy was founded in 2017 to build computing skills in students from grades K through 8. The Academy is funded by the Lori and Mark Fife Foundation, geared to enhance students' education and prepare them for 21st-century innovations. Penn Engineering students teach coding through this program and serve as robotics mentors for hundreds of students in 21 schools across Philadelphia. Mark Fife (W'78)  says, "Coding is the language of the 21st century, and every child should have the opportunity to acquire this skill set so they can reach their full professional potential."
To learn more about Penn Engineering's community engagement and outreach initiatives, contact Chanda Jefferson at outreach@seas.upenn.edu or visit our K-12 and Outreach Page.