Penn Engineering Students Take Home First and Second Place at Cornell Cup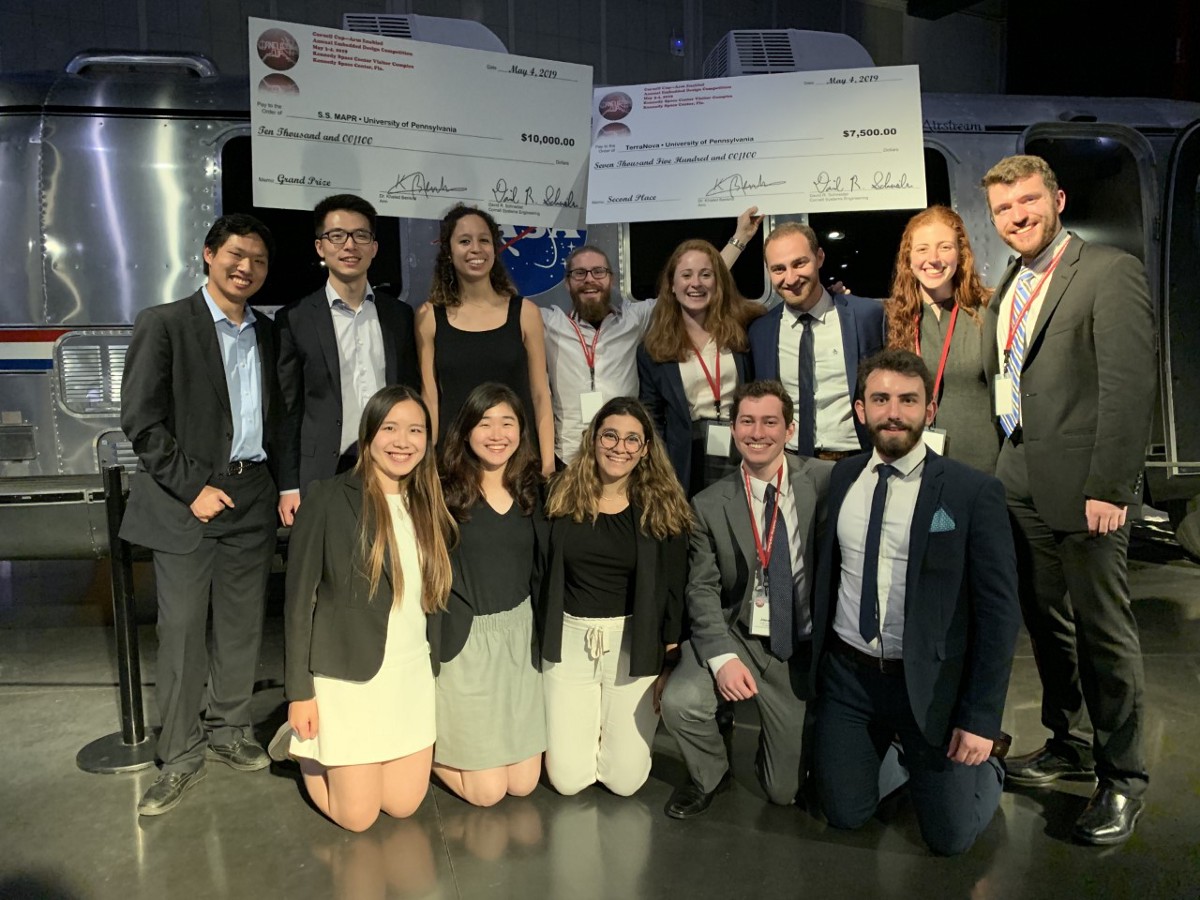 By Lauren Salig.
The annual Cornell Cup challenges undergraduate students to engineer embedded systems design projects that will dazzle a panel of expert judges with their innovation. This year's competition featured two teams of Penn Engineering students, both of which initially formed to complete their Senior Design Projects and decided to continue putting their projects to the test at the Cornell Cup.
The Cornell Cup, hosted by Cornell University's Systems Engineering department, is a competition that asks students to thoughtfully describe a problem and engineer a feasible technological solution.
The two teams from Penn Engineering selected as finalists received funding to attend the final round of the competition in early May 2019 at the NASA Kennedy Space Center in Florida. Both teams featured students from Penn's Department of Mechanical Engineering and Applied Mechanics and were awarded top prizes at the 2019 Cornell Cup for their projects.
Team S.S. MAPR won the $10,000 Grand Prize with their design of a low-cost, autonomous watercraft that performs water quality measurements in bodies of water like the Schuylkill River. Their watercraft collects samples from varying depths of water and could drastically reduce the cost of data collection while increasing the frequency of water quality monitoring. The team is comprised of Sherry (Xiaoyi) Chen, Frank (Fangyi) Fan, Quinn Wu, Eunice Lee, Vanessa Howell and Mia Mansour and is advised by M. Ani Hsieh.
Team TerraNova received second place in the Cornell Cup for their design of a robotic rover to explore uncharted lunar caves. Their rover features a novel jumping mechanism that enables transit of the rubble-filled entrances to these caves. Exploration of these subterranean spaces could enable new scientific discoveries and might serve as a stepping-stone for detailed subsurface exploration of Mars. The team is comprised of Jonah Arnheim, Claire Brundage, Allison Grey, Dylan Hawkes, Gregory Robinov and Raphael Van Hoffelen and is advised by Mark Yim. They won $7,500.
To read about all of the Cornell Cup finalists, visit the Cornell Cup website.