Nader Engheta Named International Fellow of Canadian Academy of Engineering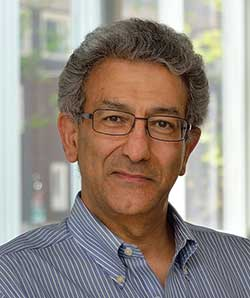 Nader Engheta, H. Nedwill Ramsey Professor in Electrical and Systems Engineering, Bioengineering and Materials Science and Engineering, has been inducted into the Canadian Academy of Engineering (CAE) as an International Fellow. The CAE comprises many of Canada's most accomplished engineers and Engheta was among the five international fellows that were inducted this year.
The Academy's President Eddy Isaacs remarked: "Over our past 32 years, Fellows of Academy have provided insights in the fields of education, infrastructure, and innovation, and we are expecting the new Fellows to expand upon these contributions to public policy considerably."
Engheta was recognized "for his trailblazing contributions in engineering and physics of light-matter interaction in metamaterials."
Engheta's research interests span the fields of nanooptics and nanophotonics, metamaterials and plasmonics, and optical nanostructure modeling. He also has an ongoing collaboration with the University of Ottawa and he has previously spoken at its annual Schawlow-Townes Symposium on Photonics.