M&T Student Profiles: Jenna Barton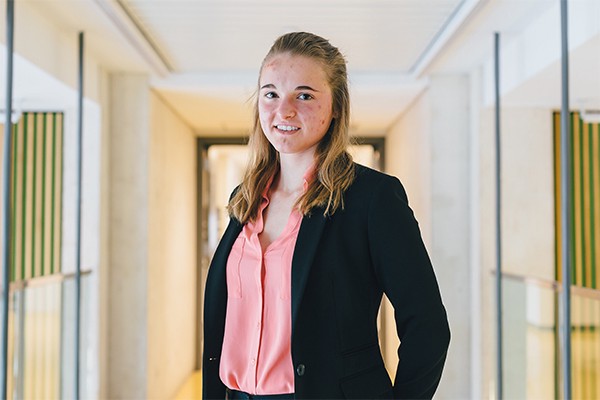 Jenna Barton is a senior in the Jerome Fisher Program in Management & Technology. Students in the M&T program dual major in departments that span Penn Engineering and Wharton; Barton majors in Computer Engineering in the former and Finance and Entrepreneurship at the latter. In an interview, Barton explains what drew her to the program and what makes the community there special to her.
WHY M&T
Ever since I was in grade school I was determined to be an engineer, but as I got older I found I was fascinated with more than just designing the product. I was drawn to where tech met business and focused on understanding the why, who, and what of the problem and product. When looking towards college, I knew I wanted to study both business and engineering. When I found the M&T Program, I knew it was a perfect fit.
One of my favorite things about the M&T Program is that we study business and engineering concurrently, taking classes in Wharton alongside classes in the Engineering School. The interwoven nature of the courses not only allows me to explore my varied interests, it also helps me fine tune my education. As I better understand what my interests are, I can enroll in different courses to prepare me for that career path, be it in finance, engineering, or something else.
HIGH SCHOOL ACTIVITIES
During the school year, I pushed myself in academics and extracurricular activities. I pursued a challenging course load through my school's AP program balanced by varsity athletics, where I was a dedicated runner on our cross country team and two-time captain of our fencing team.
I spent my summers following my passion for science and technology and was honored to have been accepted to numerous programs that allowed me to explore my interests. After my sophomore year, I attended the Management & Technology Summer Institute (M&TSI) where I was first formally introduced to and fell in love with entrepreneurship. The following year I attended New Jersey Governor's School of Engineering and Technology, which allowed me to gain exposure to a large breadth of STEM fields, from modern physics to theoretical computer science. After my senior year, I attended Google's Computer Science Summer Institute, which allowed me to dig even deeper into my love of software engineering.
Continue reading Barton's profile.