Computer and Information Science Names 2018 J.P. Eckert Master's Fellows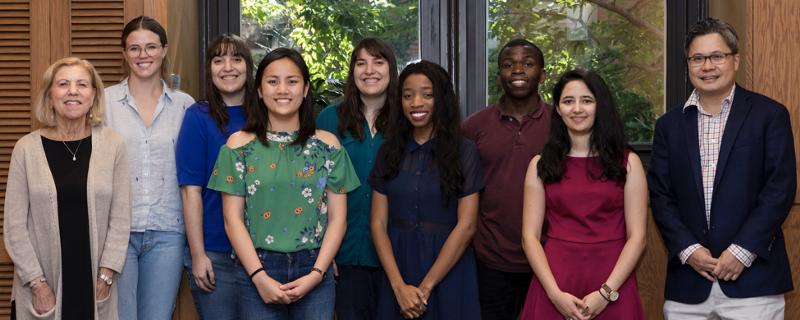 The Department of Computer and Information Science (CIS)is pleased to announce the recipients of the 2018 J.P. Eckert Master's Fellowship. This fellowship is named in honor of J. Presper Eckert, co-inventor of the first general-purpose electronic digital computer, ENIAC, at the University of Pennsylvania.
This fellowship provides outstanding master's students who are U.S. citizens or U.S. permanent residents $10,000 towards tuition. The purpose of the fellowship is to provide financial support to master's students and to advance the University's interest in promoting student body diversity.
All incoming and existing master's students in each of the six CIS-affiliated master's programs with at least two semesters remaining in the program are eligible to apply for the fellowship. Eckert Fellows are selected through a highly competitive process, where applicants are evaluated based on their academic achievements, community service, and statement of purpose on diversity and outreach in STEM fields.
The 2018 Eckert Fellows are:
● Erin Goldberg (Computer Graphics and Game Technology) — co-winner
● Stephanie Goldberg (Computer Graphics and Game Technology) — co-winner
● Shalmali Joshi (Embedded Systems)
● Ada Li (Data Science)
● Edidiong Okon ( Computer and Information Science)
● Tierra Sharae (Computer and Information Technology)
● Rosalind Shinkle (Robotics)
"In the Department, we understand our responsibility to contribute to increased diversity in the tech workforce," said Zachary Ives, Adani President's Distinguished Professor and chair of CIS. "We're proud to be able to offer the Eckert Fellowship to support these seven amazing and talented students, who will advance our mission in this regard."
One of the Eckert Fellows is Rosalind Shinkle, currently in the Robotics master's program. Shinkle remembered demonstrating the Minitaur robot at a PERCH community event: "I saw two little girls' eyes light up as they passed the controller back and forth between them, making the robot walk around. I would do that demo again and again just so I could see that spark."
"CIS is incredibly fortunate to have the assistance of these talented Eckert Fellows to improve our master's programs through advocating on issues important to master's students, connecting with prospective students, and participating in CIS diversity outreach activities," said Rita Powell, Director of Diversity and Belonging in CIS.
Shalmali Joshi, second-year Embedded Systems (EMBS) master's student, enjoys being involved outreach activities at Penn: "In my first year as a master's student, I helped out in the FIRST LEGO League competition at Penn. In the upcoming year, I will be involved with Graduate Student Engineering Group as the EMBS program representative. I plan on continuing my involvement with organizations that promote STEM learning and help to foster an engineering community on campus."
During the fellowship year, Eckert Fellows will have the opportunity to participate in various recruitment and outreach activities, and will provide crucial insight and feedback to the Department.
"These activities may include helping to onboard incoming master's students from diverse backgrounds, and contributing to our Penn Engineering voices blog series about their shared Penn experiences," said Boon Thau Loo, professor in CIS and associate dean for Master's and Professional Programs in Penn Engineering. "We look forward to engaging all our Eckert fellows."